UW School of Energy Resources Launches New Minor in Energy Resource Management
August 12, 2021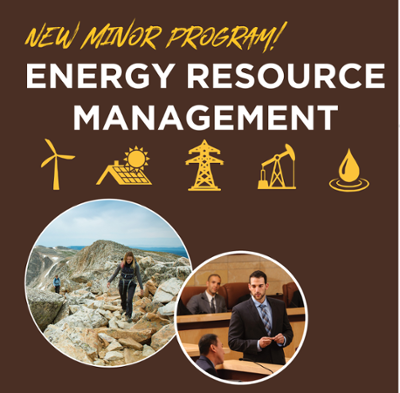 The University of Wyoming's School of Energy Resources (SER) will offer a new minor in energy resource management (ERM) starting this fall.
The new minor will allow a wider array of UW undergraduate students to gain access to specialized energy instruction to supplement and enhance their education. The minor will benefit students who are interested in business, economics, finance, engineering, science, law, real estate, lab sciences, land management, political science, sociology, agriculture, and environment and natural resources. By acquiring a foundational knowledge of diverse energy topics and interdisciplinary training, students will gain a competitive edge to expand career opportunities.
"Wyoming is an energy-producing and exporting state," says Holly Krutka, SER executive director. "The School of Energy Resources is thrilled to expand our academic offerings to include this minor. It is designed to be flexible and interdisciplinary so students can tailor it to their specific interests."
The energy industry is rapidly evolving with new challenges and an even greater demand for professionals across multiple disciplines to navigate energy solutions for a low-carbon future, she says.
"In addition to science and engineering, the energy industry involves understanding the business case for projects, critical decision-making skills and the ability to work with stakeholders," Krutka adds. "It relies heavily on people who can navigate issues and work collaboratively over a broad spectrum of disciplines. We are confident that the minor will equip UW graduates with the skills necessary to be successful in energy sector employment."
The ERM minor is built on UW's existing and growing programs. Students will gain an appreciation and understanding of fundamental concepts in energy systems, including the commercial aspects of energy industries. Additionally, students will acquire critical thinking and problem-solving skills related to energy and environmental problems, and an overview of societal problems requiring economic and policy analysis while working in a multidisciplinary environment.
The minor requires 12 credit hours of coursework, six of which are satisfied through two required core courses. For the remaining six credits, students will choose from 27 approved courses offered by the colleges of Agriculture and Natural Resources, Arts and Sciences, Business, and Engineering and Applied Science; the Haub School of Environment and Natural Resources; and SER.
Tim Considine, a professor in SER and the UW Department of Economics, and the academic director for SER, says the minor will help bridge a gap in the workforce and aptly blend disciplines to accelerate innovative energy solutions.
"Energy is the foundation of our modern world, and we are building on what we have to keep up with the global demand for energy," Considine says. "Wyoming is a very special place at the center of energy development, and the School of Energy Resources is a hub for energy education. The minor addresses a need expressed by the employers who hire our students and from our graduates who are eager to move into these markets."
An additional strength of the program is that it is built entirely from existing courses throughout the university that have an emphasis on energy. There are no incremental costs associated with the program, and the added credential will help to boost enrollment and curricular overlap.
Similar to the new minor, the Bachelor of Science degree program in energy resource management and development (ERMD) at SER already boasts the versatility to incorporate multiple areas of interest in the energy sector. While some students come with a humanities-based background in the hopes of pursuing a career in energy law, real estate or business, others are drawn to the degree with a robust scientific background. Through a combination of rigorous academic training, hands-on scenarios and internships, students prepare for essential roles in energy development and management. The program offers two concentrations for specialization: professional land management, and energy and environmental systems.
SER is now accepting students into the ERM minor program. For more information about the minor or the ERMD program, go to www.uwyo.edu/ser or email seracad@uwyo.edu.