SER Senior Research Scientist Heng Wang Takes Position at Chengdu University of Technology
September 1, 2021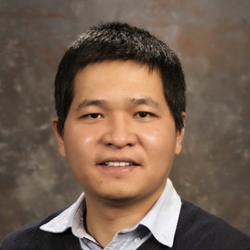 After nearly a decade affiliated with the School of Energy Resources (SER), Dr. Heng Wang will be departing to assume a new faculty position at the Chengdu University of Technology in China.
An expert in potential CO2 Enhanced Oil Recovery (EOR) and storage in unconventional reservoirs, Wang has spent the last several years working on high-profile research grants associated with carbon capture, utilization, and storage (CCUS). Most notably, he was a key researcher on the Department of Energy (DOE) funded US-China Clean Energy Research Center (CERC) project since its early stages of development.
Wang earned his bachelor's degree in petroleum engineering from the University of Petroleum in East China in 2011, and his master's degree from the China University of Petroleum in 2013. Immediately following, he came to the University of Wyoming to pursue his Ph.D.  
Under the supervision of Dr. Vladamir Alvarado in the Department of Petroleum Engineering, Wang began his research activities on CERC. Throughout his course of study, he not only forged lasting and valuable relationships with his colleagues and partners abroad, but he also excelled as a truly exceptional reservoir engineer.  
"Heng showed all the signs of a gifted experimentalist, but also a careful, talented modeler," says Alvarado. "Even with his exceptional traits, he remains humble, a great colleague, and a friend."
After completing his doctoral degree in 2017, Wang transitioned into a permanent role as a senior research scientist in SER's Center for Economic Geology Research (CEGR). With substantial experience under his belt, he became a leader on Phase II of CERC along with his colleague and mentor, Dr. Zunsheng (John) Jiao.
"Heng is one of the most outstanding, creative, and hard-working researchers to emerge from our institution," says Jiao. "He thrived in a technically challenging project and always endeavored to improve the accuracy of any data and simulation results."
In addition to his perseverance and meticulous nature, Wang has made significant scholarly contributions to document the behavior of CO2 in the subsurface, expanding the resources on CO2 storage and EOR. He has published over twenty articles – half of which he served as lead author.
The CERC grant came to a close in summer of 2021, which has brought about a fitting conclusion to Wang's time in Wyoming. Having positively impacted the investigation of subsurface storage, he will now move on. In his new role he will continuing his valuable research while maintaining his ties to Wyoming, but he will also be teaching a new generation of promising scientists and students.
Dr. Fred McLaughlin, who serves as the interim director of CEGR, laments losing Wang but is hopeful for the prospect of working with him on an international scale.
 "Heng has been a tremendous asset to CEGR and his abilities are unmatched," says McLaughlin. "While we are very disappointed to lose him, we do look forward to future opportunities to collaborate, and wish him the very best in his new adventure."
Jiao and Alvarado echo those sentiments.
"I offer my best wished and congratulations to Dr. Wang on his new research professor position," comments Jiao. "But we look forward to continuing cooperation on the technology development for the commercial-scale CO2 storage and unconventional energy resources exploration."
"Heng will be missed," adds Alvarado. "I wish him the best in his future endeavors, which I anticipate he will pursue with the same passion and inquisitiveness that characterize many of his actions."