SER Hosts Occidental CEO Vicki Hollub
September 1, 2021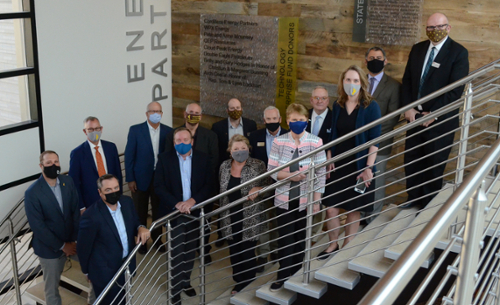 Hollub, who spoke earlier last week at the Petroleum Association of Wyoming's (PAWS) Annual Conference, made the trip to Laramie to witness first-hand some of the cutting-edge research at SER and visit with leading scientists, faculty members, and state officials – including Governor Mark Gordon who toured the High Bay Research Facility with Ms. Hollub and witnessed the work at the Center of Innovation for Flow Through Porous Media.
"SER was honored to host Occidental to further grow our already strong collaboration with an important Wyoming oil and gas producer, global leader on carbon management and exceptional industry partner in administering endowed chairs and carbon capture, use and storage research program," said SER executive director Holly Krutka.
Through the generous support of Oxy, UW was awarded 2 distinguished faculty chair positions – The Occidental Chair in Energy and Environmental Technologies, and the Occidental Chair of Energy and Environmental Policy, which is jointly administered with the Haub School of Environment and Natural Resources.
During Hollub's visit, SER unveiled a wall display in the Energy Innovation Center, dedicated to Oxy and in commemoration of its gift and support. In attendance at the unveiling was Professor Saman Aryana, the inaugural holder of the Occidental Chair in Energy and Environmental Technologies.
"It was wonderful to meet such an inspirational leader in the industry and have an opportunity to tell her about my group's work and hear her thoughts about the future directions of the energy industry," says Aryana. "I am really excited about this collaboration between the University of Wyoming and Occidental and the possibilities it will bring."
Hollub's brief but memorable visit concluded with a tour of the research labs in the Energy Innovation Center.
"We are so grateful and humbled to have Ms. Hollub to campus," adds Krutka. "It was an honor to share our work in CCUS and meet a visionary leader in this field."