UW's Annual Energy Law and Policy in the Rockies Conference Slated for Oct. 8
September 16, 2021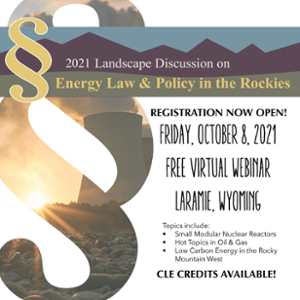 The University of Wyoming's School of Energy Resources (SER) and the UW College of Law's Center for Law and Energy Resources in the Rockies (CLERR) will virtually host the 2021 Landscape Discussion on Energy Law and Policy in the Rockies Conference Friday, Oct. 8.
The conference is presented in collaboration with the Wyoming State Bar's Energy and Natural Resources Section. The event will focus on energy-related legal, regulatory and policy issues of current interest in Wyoming and the region.
Speakers are Kathryn Huff, the principal deputy assistant secretary and acting assistant secretary of the U.S. Department of Energy's Office of Nuclear Energy; and Nada Wolff Culver, the deputy director of policy and programs for the Bureau of Land Management (BLM). Huff will focus on the increasing role of nuclear energy in the country. Culver will discuss the current energy and environmental policies of the BLM.
"We are looking forward to hosting this conference again this year and are excited about the great lineup of expert speakers," says Temple Stoellinger, co-director of CLERR. "The main objective of the conference is to provide information on key energy topics currently at play in Wyoming and in the Rocky Mountain region."
The conference begins at 8:30 a.m. with a welcome and remarks by UW President Ed Seidel, SER Executive Director Holly Krutka and UW College of Law Dean Klint Alexander.
Huff will present her keynote address at 8:45 a.m. Culver's talk is at 1:15 p.m.
"With the recently announced goal of achieving net-zero emissions for Wyoming, this year's conference has a focus on providing information on the diverse range of energy assets in the state's arsenal," Stoellinger says.
This year's conference session topics include understanding small modular nuclear reactors and their regulation, hot topics in oil and gas, and low carbon energy in the West.
The conference will be offered through a virtual webinar platform and will be free to the public, and UW students, faculty and staff members. Continuing legal education (CLE) credits and American Association of Professional Landmen credits are available.
To register for the conference or to view the schedule, visit the conference webpage at www.uwyo.edu/ser/events/conferences/clerr-energy-law.html. Once registered, the conference link will be provided.
The panel discussions will be posted on the SER website at the conclusion of the conference for those unable to attend in person or who are seeking self-study CLE credits.
For more information, email Christine Reed, SER outreach director, at christine.reed@uwyo.edu.