Danaei Named New UW School of Energy Resources Academic Director
October 4, 2021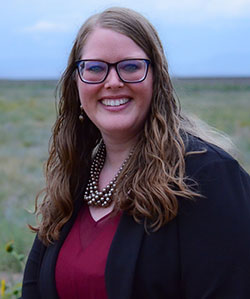 Kami Danaei
Kami Danaei is the new academic director for the School of Energy Resources (SER) academic program at the University of Wyoming.
She will oversee the curriculum, course development and scheduling of the degree program. Danaei also is tasked with managing accreditation reports and requirements; establishing learning outcomes and assessment standards in accordance with accreditation standards; and leading professional development efforts.
"We are excited to have Kami on board in her new role," says Holly Krutka, SER executive director. "She has already proven herself to be more than capable of managing the academic program, and we are excited by her energy and determination to make the program a success."
Danaei succeeds Tim Considine, who stepped down from the interim position in early September. A professor of energy economics for SER, Considine will return as a full-time faculty member and continue to teach core courses in the energy resource management and development (ERMD) degree program.
"We are deeply grateful for the service that Dr. Considine has provided over the course of the last year in his administrative role, and we look forward to continuing to support and collaborate with him, both through his exemplary work in the classroom and through his Wyoming-focused energy economics research," Krutka says.
As a former instructor, academic adviser and administrator, Danaei has developed leadership skills and a drive for excellence that make her an ideal fit for the position, Krutka adds.
Danaei, a Wyoming native, came to SER in April as the academic advising manager for the ERMD degree program. Since joining the staff, Danaei has helped to bolster the program, garnering enthusiasm and camaraderie among the students, and innovating the recruiting efforts to strengthen the degree and grow the program. In addition to serving as the new academic director, Danaei will continue to advise current students, assist with career development and deployment, and recruit new SER students.
"I am honored to be named the academic director for SER," Danaei says. "In my time here, I have gained insight to how unique and valuable our degree offerings are, and the ability they provide to our graduates to engage in meaningful and gainful employment in the energy sector and beyond."
Danaei already has forged relationships among the university community and with the SER faculty members housed within the different UW departments. She anticipates becoming even more visible on campus and is eager to create new partnerships for the success of students.
"I have witnessed the variety of energy expertise among faculty within SER fields and look forward to working with our impressive faculty to continue to grow the ERMD program," she adds. "Together, with the faculty, staff, students and alumni, we will continue to accomplish great things. Most important, we will work to ensure the unparalleled education that SER provides endures long into the future."
Danaei earned her bachelor's degree in communication (2008) from the University of Idaho. Her master's degree in communication (2010) and doctoral degree in higher education administration (2018) are both from UW.