Support the School of Energy Resources on Giving Day 2021
October 12, 2021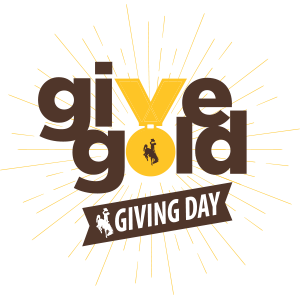 The University of Wyoming will once again be hosting UW Giving Day! Spearheaded by the UW Foundation, UW Giving Day is an annual UW tradition that raises thousands of dollars in a single day for students and programs across campus.
This year, UW Giving Day is slated to coincide with the homecoming celebration in the hopes of inspiring enthusiastic donors and friends to support the university that they love. Giving Day will take place October 20–21, noon to noon.
The School of Energy Resources (SER) is a proud participant of UW Giving Day and asks that friends, stakeholders, and energy enthusiasts consider making a gift in support of the academic program at SER.
As an added incentive, SER's executive director, Dr. Holly Krutka, has pledged to match the first $1,000 raised.
"By supporting the academic program at SER, your gift will help students gain real-word experience and a better understanding of the energy industry," says Krutka. "Giving Day is an important tradition where anyone can make a lasting impact on the education for our students and the research at SER. I am pleased to support the efforts of the UW Foundation and make gifts to SER go even further with a match."
The Energy Resource Management and Development(ERMD) degree is designed to meet the needs of the energy industry. Through a combination of rigorous academic training, hands-on scenarios and internships, students prepare for essential roles in industries such as oil and natural gas, renewable energy, and mining.
A critical component of the ERMD degree is its emphasis on experiential learning opportunities and the applicability of abstract concepts in real-world scenarios.
For students to gain these hands-on learning opportunities, SER faculty arrange field tours to energy development sites, visits to the Wyoming Oil and Gas Conservation Commission (WOGCC) hearings, as well as facilitate networking opportunities.
Students and practitioners alike report that these learning experiences significantly enhance the education offered at SER and creates graduates with a better understanding of the energy industry in Wyoming.
By supporting these programs, you are having a direct impact on the future of Wyoming energy and its leaders.
SER supporters should visit the SER Giving Day page beginning at noon on October 20. An email will be distributed to SER alumni and donors as a reminder to participate. Any donation of $200.00 or more will also earn a spotlight of the donor on our social media platforms.