Center for Economic Geology Research Presents Research at Major International Technical Conference
December 1, 2021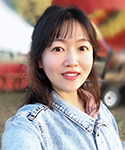 A recent article on carbon storage written by researchers in the School of Energy Resources (SER) was presented at the Abu Dhabi International Petroleum Exhibition and Conference (ADIPEC).
Organized by the Society of Petroleum Engineers (SPE), ADIPEC is the single largest technical conference for oil and gas engineers worldwide.
Research scientist Ying Yu is the lead author on the paper entitled, "Supercritical CO2-Foam Screening and Evaluation for CO2 Storage Improvement in Sandstone and Carbonate Formations" which was presented among 127 technical sessions and 7 technical panel sessions spread across four days in mid-November.
Other UW co-authors on the piece include John Jiao, J. Fred McLaughlin, Scott Quillinan and Alvinda Sri Hanamertani.
The article was accepted for presentation in a technical session exploring sustainable development and environmental stewardship in the oil and gas industry through advances in carbon capture, utilization, and storage (CCUS) and carbon capture and storage (CCS) technology applications.
"This work has optimized the foaming agent selection method under actual reservoir conditions and evaluated the scCO2-foam performance to establish high flow resistance and improve the CO2 storage capacity," says Yu. "This research is important because it will benefit integrated CCUS studies or projects utilizing CO2-foam techniques."
Yu is a research scientist in SER's Center for Economic Geology Research (CEGR) which is a leading group for CCUS research in Wyoming and the nation. With an expertise in flow through porous media and foam reservoir characterization, Yu excels at multiphase flow and subsurface site examination and is a budding scholar on the topic.
The article will be published as a conference paper and will be available through the Society of Petroleum Engineers.