The state of Wyoming is a leader in carbon dioxide (CO2) management, assets, infrastructure, policy, research, and development. Wyoming's carbon management industry includes more than 40 billion tons of characterized geologic CO2 storage, CO2 transportation infrastructure which has been proven via enhanced oil recovery, and policies that create expedience and certainty for carbon management developers. As market forces increasingly demand lower emissions energy, Wyoming sees an opportunity to leverage our leadership in carbon management to support our core industries and encourage economic growth and community resilience.
The U.S. Department of Energy's Four Regional Clean Direct Air Capture Hubs program, made possible by the Investment in Infrastructure and Jobs Act, may present an opportunity for Wyoming to create economic growth and resiliency by encouraging development in the direct air capture (DAC) industry. DAC is a form of Carbon Capture Utilization and Sequestration (CCUS) where air is captured, and the CO2 is separated out and then permanently stored underground, used for enhanced oil recovery, or converted into products.
The University of Wyoming School of Energy Resources (SER), together with the Wyoming Business Council (WBC) and Wyoming Energy Authority (WEA), is considering applying for funding through this program to encourage industrial growth in the state. Activities will be designed to meet the needs of stakeholders and may include a DAC test center, commercial components, shared infrastructure, and/or market considerations.
---
---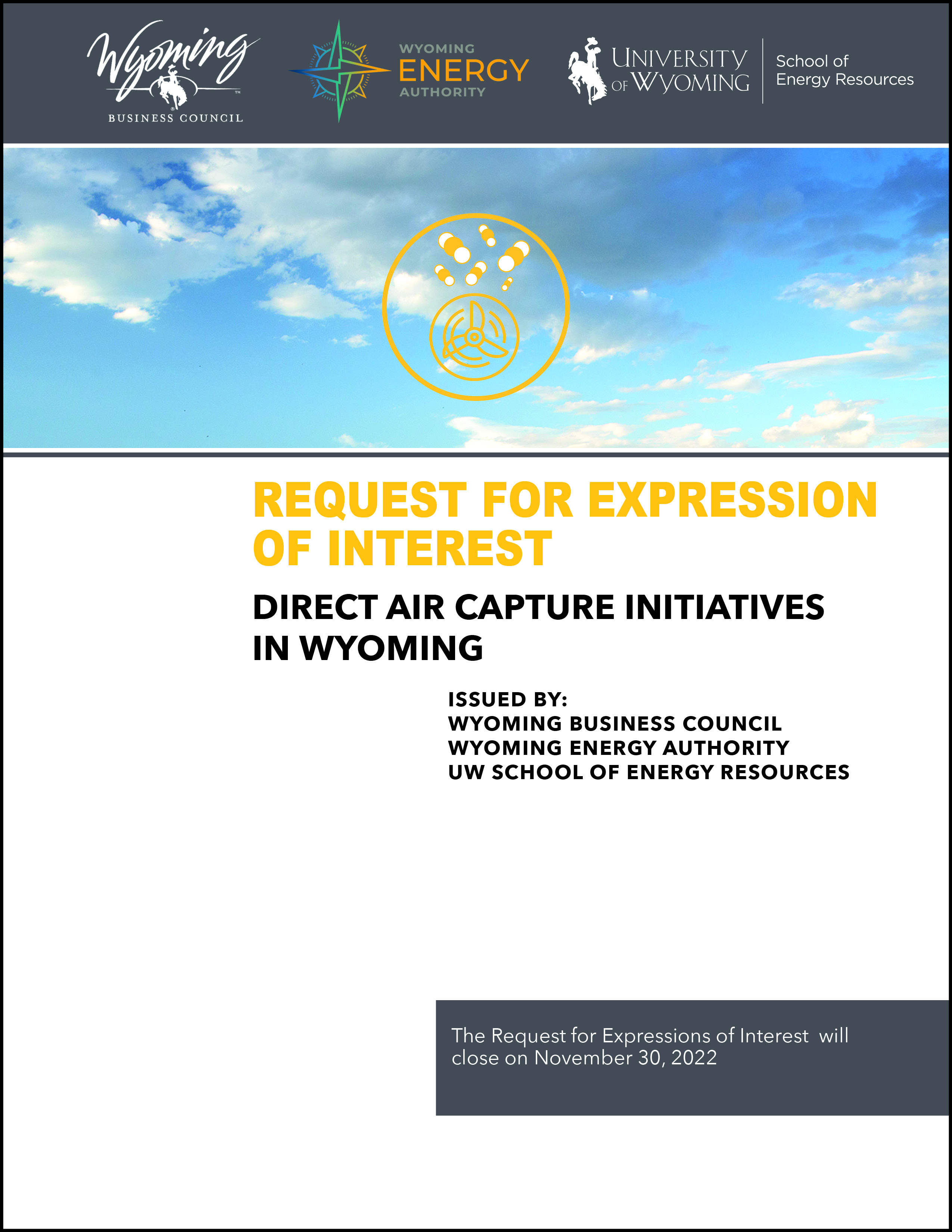 OPPORTUNITIES:
The WBC, WEA, and SER are requesting expressions of interest in the Direct Air Capture Initiatives for Wyoming. 
Download the full Request for Expression of Interest below, and please complete this form and submit it no later than November 30 if you are interested in engaging with state partners on Wyoming Direct Air Capture initiatives, including a potential response to the DOE's Four Regional Clean Direct Air Capture Hubs opportunity.
REQUEST FOR EXPRESSION OF INTEREST
FAQ's:
To learn more about Direct Air Capture technology and initiatives, please visit our frequently asked questions.