The University of Wyoming groundbreaking UW-E4® model combines multiple innovations to prepare preeminent educators. It provides a framework for the student journey from career exploration, broad-based experiential learning, and embedded practice in Wyoming schools and other settings, to continuing support for teacher candidates after entry into the profession.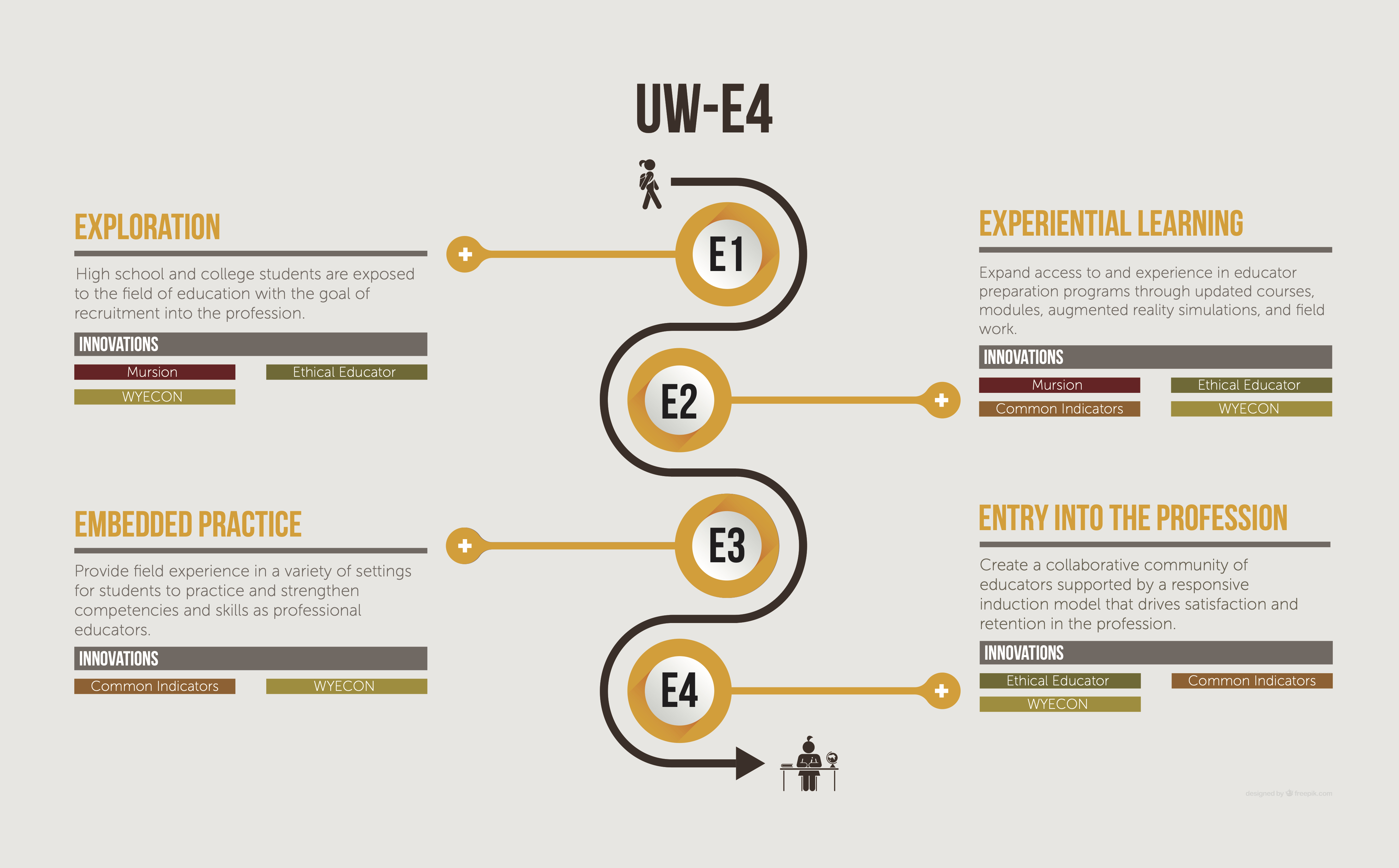 E1 The Student Journey Starts with Exploration
UW-E4 applies new energy to seeking out and engaging with high-quality future educators. These highly-motivated students may come from early exposure in high school, from community colleges, other fields, or other majors. By providing opportunities for exploration, UW-E4 seeks to increase awareness and reinforce their commitment, ensuring the best teachers aren't lost before they make it into the program.
E2 Experiential Learning Goes Further
UW-E4 creates learning experiences that help students gain critical competencies. Broad exposure to early childhood and grades K though 12 and a range of subjects and specialties helps students find their spark. Distance delivery allows them to make the leap without leaving their communities.
E3 Embedded Practice Prepares Pre-Service Teachers
UW-E4 includes flexible teaching residencies where teacher candidates put what they've learned into practice as they prepare for the profession. Residencies are available throughout the state with UW-trained on-site mentors. Options might include fall, spring, or year-long residencies, as well as internships and international opportunities.
E4 Entry Into the Profession is Supported
New teachers are supported by exceptional induction mentors, ongoing professional development, and participation in learning communities. Mentorship and training are provided through blended delivery. UW and Wyoming school districts work together to ensure early success that leads to long teaching careers. 
Why Aim Higher?
Teachers matter most. Research shows teacher quality is the number one school-related predictor of student achievement. (See Research Basis.)
Too many teachers leave. High-quality educator preparation is a key predictor of teacher retention and career longevity. (See Research Basis.)
Wyoming wants the best. Results from town hall meetings and surveys demonstrate that teacher quality is a top priority throughout the state. (See Research Basis.)
The UW Board of Trustees launched the Trustees Education Initiative to produce the nation's highest-quality teachers, transform educator preparation, and enrich the PK-12 education system in Wyoming. UW teachers become masters of their craft, growing their students' potential to make vibrant contributions in communities, families, professions, and an array of endeavors.
Access, quality, and measurement are at the heart of UW-E4. Partners throughout the state are in on building it. Networks of schools, early childhood programs, and national, state, and district leaders are contributing and collaborating. Unprecedented distance delivery will make education for educators available from Buffalo to Bonderant, Sundance to Saratoga, Ethete to Wapati, and points in between and beyond.
UW-E4 is evidence-based, scalable, sustainable, and designed to be to be nimble. Systems are being fine-tuned to ensure continuous improvement of every aspect of the UW-E4 educator preparation program.