Department of Anthropology
Nikolas Sweet
Assistant Professor
Linguistic Anthropology
BA in French and Economics, Virginia Tech, 2005
MA in Anthropology, University of Michigan, 2014
PhD in Anthropology, University of Michigan, 2019 
---
Nikolas Sweet is a broadly trained linguistic anthropologist interested in the significance of everyday interactions. He investigates questions of mobility and migration, social interaction, and performance in Senegal, West Africa, where he works in the local languages of Pular, Wolof, and French. His research is located in the region of Kedougou in the Senegal-Guinea borderlands, where he founded a community-based field station that hosts interdisciplinary anthropological research programs. His research explores how this region has witnessed significant social and environmental changes due to expanding gold mining, an Ebola epidemic, as well as other political and economic shifts. With a longstanding engagement in West Africa, Nik has worked as a small business consultant, experiential education instructor, and an anthropologist since 2006. Beyond language, he is fascinated by the anthropology of food and cooking, and is developing a multi-sited research project on the language and sociality of hunting in Germany, Senegal, and Wyoming. He teaches courses on linguistic justice, humor, and social theory.  

Courses Taught: 

Recent/Selected Publications:
2021"Talk on the move: articulating mobility in West Africa." Journal of Ethnic and Migration Studies.
2021 "The Socio-poetics of Sanakuyaagal: Negotiating Joking Relationships in West Africa." In African Performance Arts as Political Acts. Ann Arbor: University of Michigan Press.
2020. "Ritual Contingency: Teasing and the Politics of Participation." Journal of Linguistic Anthropology. 
Research Interests:
Language, face-to-face interaction, mobility and migration, humor, language and identity, materiality, food, hunting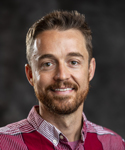 Nikolas Sweet
Assistant Professor