Education
Museum as Classroom is the key approach to learning at the University of Wyoming Art Museum. The museum has extensive education programs for all ages, including pre-K through 12th grade, university and college students, and adults. The education team, including a Master Teacher, creates programs that enhance and expand an understanding of art, culture and personal creativity for museum visitors based on the model of observe, question, explore, create, and reflect. Using the museum's exhibitions – including the traveling Artmobile exhibitions and the museum's regional touring exhibition program – as the focal point for these activities, participants experience diverse forms of visual expression through investigative museum and studio processes, connecting with artists and scholars across disciplines and areas of study.
The University of Wyoming Art Museum presents and collects world-class art, furthers programs that engage students and visitors in discussions that broaden an understanding of diverse perspectives, viewpoints, and cultures, and advances service to the state.
Through this Museum as Classroom approach, the University of Wyoming Art Museum places art at the center of learning for all ages, supports the academic mission of the University, assists in preparing our future workforce with essential skills, and enhances the cultural life of Wyoming's citizens and visitors.
Studies continue to confirm the importance of the arts in learning. Skills such as thinking creatively, problem-solving, persevering in perfecting skills, staying focused, and receiving constructive feedback help students of all ages in preparing for a productive and positive contribution to whatever pursuits they have in the future. The Art Museum's programs are essential to advancing learning in our youngest students, preparing our future workforce and leaders, and enlivening the cultural experience in Wyoming.
---
---
Educational Philosophy
The museum's approach to interpretation and education encourages intellectual inquiry, supports, enhances and partners with the academic programs of the university and regional education systems, respects and encourages diverse perspectives and the exchange of ideas about the visual arts, demonstrates excellence in content through all of its programs; and enables the creative spirit to grow.
Educational Vision
Our vision is that students of all ages regularly experience the rich resources available through our collections and exhibitions, workshops and art talks, tours and studio classes, and our outreach programs – not as onetime events in their lives, but as repeated activities building on the art explorations, knowledge and intellectual inquiry experienced with each visit. Faculty and teachers become partners with the museum in a joint educational process that emphasizes authentic learning grounded in the artwork and expertise of visiting artists and scholars. Communities of learners from all walks of life contribute their diverse voices to the exchange of ideas precipitated by the museum's exhibitions. The museum galleries and studios ring with the sound of excitement as visitors find and explore their own creative spirit, inspired by the work on display.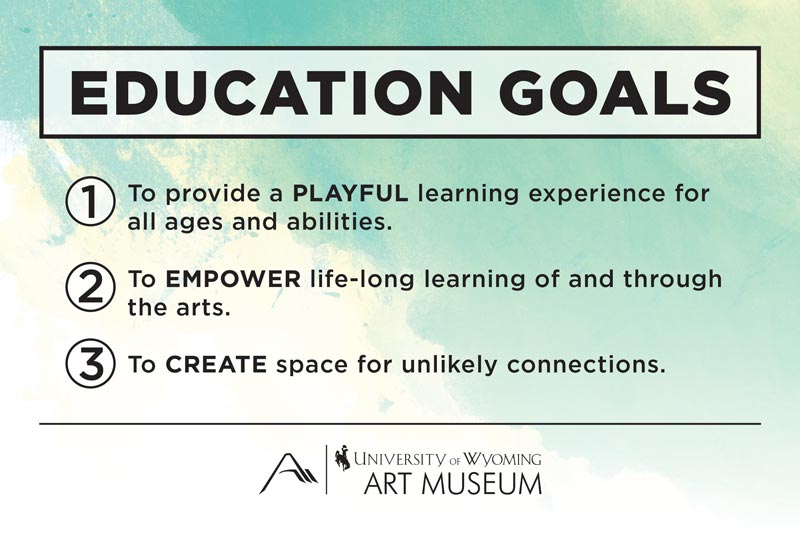 Volunteer