Ann Simpson Artmobile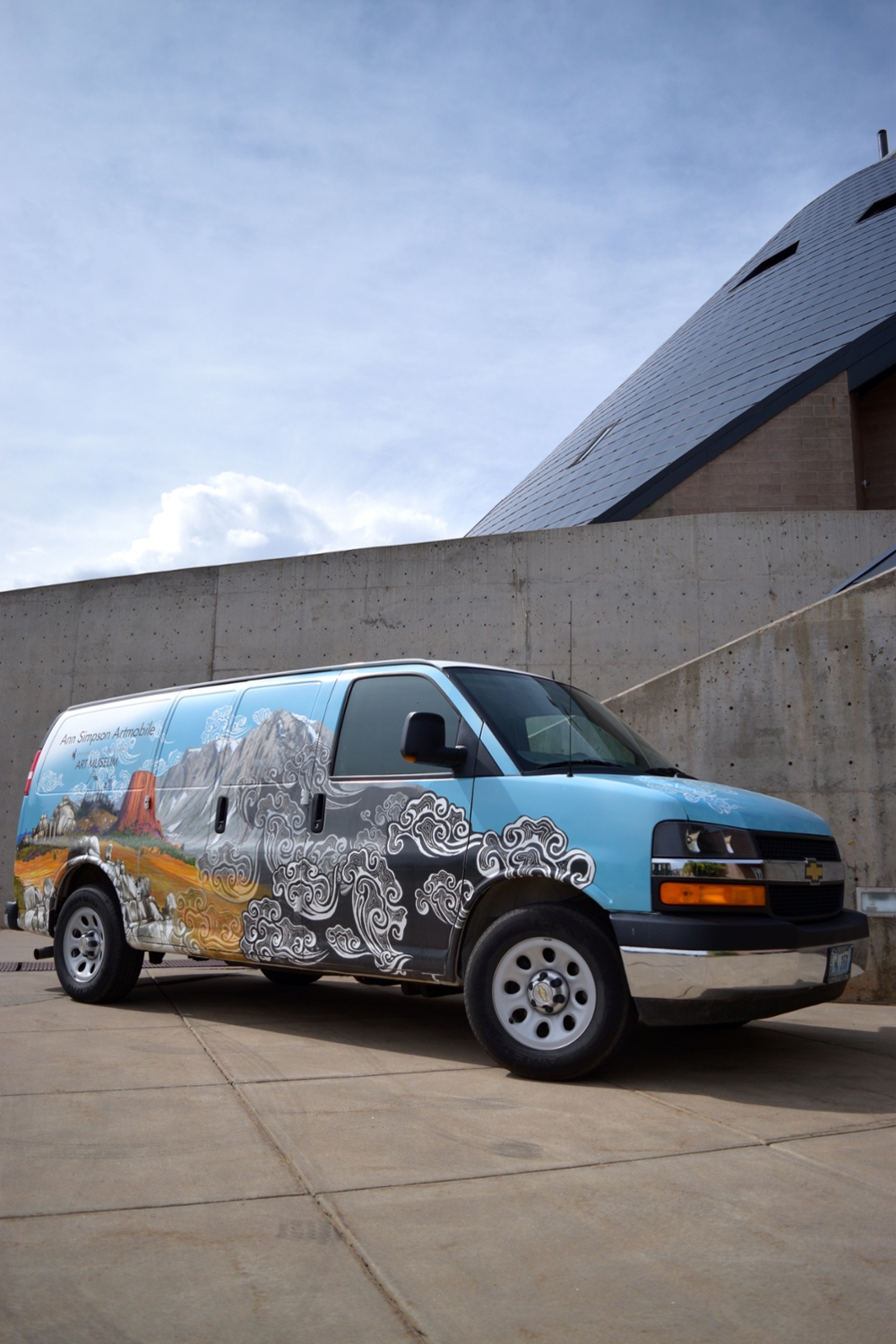 The Ann Simpson Artmobile travels across the 97,914 square miles of Wyoming sharing museum quality artwork with communities that may otherwise have limited access to original art. The exhibitions displayed change every two years and are made up of artwork from the Art Museum's permanent collection. Visits are routinely made to K-12 schools, visitor centers, libraries, senior centers and other community-accessible locations in towns throughout the state.  Artmobile Educator, provides programming tailored to site visit needs. 
Click below for more information about the current Artmobile exhibition,
The exhibition invites viewers to investigate the relationship between art and architecture.
Schedule A Visit
If you're interested in scheduling an Artmobile visit, or for questions, please contact Artmobile Educator, Sarita Talusani Keller.
---
The Artmobile is currently booking new visits!
Check out the upcoming Artmobile Schedule:
April 10-11   Campbell County elementary schools
Stocktrail(Gillette-April 10), Cottonwood (Wright-April 11)
May 7-8        Casper Excel Academy, Casper, WY
June 15         National Advisory Board Meeting, Laramie, WY
July 7            Family Saturday Parade Workshop at the UW Art Museum, Laramie, WY
July 14          Laramie Jubilee Days Parade, Laramie, WY
---
---
Through the Artmobile program, students are given the opportunity to investigate and respond to challenging works of original art to which they might not otherwise have access.

Guillermo Silva (Columbian, 1921, 2007), Luna Lena, 1966, etching, 17-1/2 x 16 inches, Friends of the UW Art Museum Purchase, 1968.6

The Artmobile's "Deep Looking" activity invites students to spend time with the images in the exhibition to form original arguments about the artwork on display.
---
---
Funding for the Ann Simpson Artmobile Program is provided by the Ann Simpson Artmobile Endowment established by the Julienne Michel Foundation and with the support of Helga and Erivan Haub, Ann and Alan Simpson, and an anonymous donor. The Artmobile van is provided by Genesis Alkali, LLC, Ann and Al Simpson, and Rocky Mountain Power Foundation and other generous donors. Additional support is provided by Genesis Alkali, LLC, Union Wireless, and the Wyoming Arts Council through the National Endowment for the Arts and the Wyoming State Legislature.