Jennifer Thompson
Small Acreage Outreach Coordinator
University of Wyoming Extension
5015 Stone Road
Laramie, WY 82070
Phone: (307) 745-3698
Email:
jsjones@uwyo.edu
The Magazine: Barnyards & Backyards: Rural Living in Wyoming
This informative, concise, and timely quarterly magazine is made for YOU the rural landowner, or backyard enthusiast.
Current Issue
Cabin fever? We have cures for that!
Ask Sam: I really love fresh goat milk and am thinking of starting a small, dairy goat herd. I would also like to sell some of the milk. Is that allowed in Wyoming?
Aspen, cottonwoods prone to problems
Ensure you're not bitten when smitten by backyard pond
Clean equipment, milk hygiene vital to dairy
Raspberry patch grows into berry bonanza
Is fertilizing irrigated pastures, hayfields, a waste of money?
Put Wyoming's sunny disposition to work
Tools of the trade
Strategies to defeat weeds
Can you afford to board your horse?
Subscribe and Past Issues
(If your question is used in the "Ask Sam" feature, you will receive 1 year subscription free!)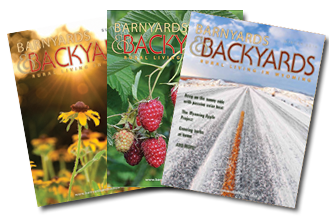 Current Issue Supporters
Share This Page: