Jennifer Thompson
Small Acreage Outreach Coordinator
University of Wyoming Extension
5015 Stone Road
Laramie, WY 82070
Phone: (307) 745-3698
Email:
jsjones@uwyo.edu
The Magazine: Barnyards & Backyards: Rural Living in Wyoming
This informative, concise, and timely quarterly magazine is made for YOU the rural landowner, or backyard enthusiast.
Current Issue
Gratification, relaxation, preparation
Wyoming maple syrup - no, that was no typo!
Ordinary fall garden chores plant opportunities for extraordinary next year
Featured landowners: Can your place be a Wyoming guest lodge?
Everything you need to know to buy good seed is on the label
Garlic puts fall gusto in your garden, summer zest in kitchen
New fruit pest identified in Wyoming
How to repair a broken strand of barbwire
Name that gymnosperm
Caring for horses during the winter
Ask Same: What causes a blue spruce tree to start dying from the top of the tree?
Subscribe and Past Issues
(If your question is used in the "Ask Sam" feature, you will receive 1 year subscription free!)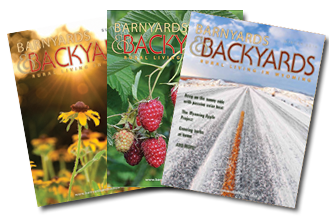 Current Issue Supporters
Share This Page: