Jennifer Thompson
Small Acreage Outreach Coordinator
University of Wyoming Extension
5015 Stone Road
Laramie, WY 82070
Phone: (307) 745-3698
Email:
jsjones@uwyo.edu
The Magazine: Barnyards & Backyards: Rural Living in Wyoming
This informative, concise, and timely quarterly magazine is made for YOU the rural landowner, or backyard enthusiast.
Current Issue
Your magazine is a true team effort
Ask Sam: Several of my trees were damaged in the big wet snowstorm that hit Sundance in early October. What should I do?
Wyoming Apple Project attempts to save Wyoming's diverse apple cultivars
Wyoming tough
The planter grows up
Seed source matters when reclaiming land with native seed
Starting plants from seed indoors - The basics
Keep on the sunny side
Herbs at home
I need to spray my tree ... or do I?
Subscribe and Past Issues
(If your question is used in the "Ask Sam" feature, you will receive 1 year subscription free!)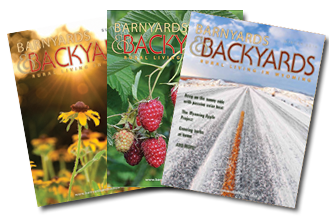 Current Issue Supporters
Share This Page: