Congratulations to our finalists! We look forward to hearing their business plan presentations on April 17th.
2015 Competition
The 2015 Competition featured five great teams with impressive business plans. The judges had a tough job selecting the winners. To read more about the 2015 Competition, click here.
1st place: Cruxx Climbing
2nd place: Spigot
3rd place: VeeBee Farms
Best presentation: Wyoming Skills Academy
Most creative business plan: Catering Calculator
Congratulations to our winners!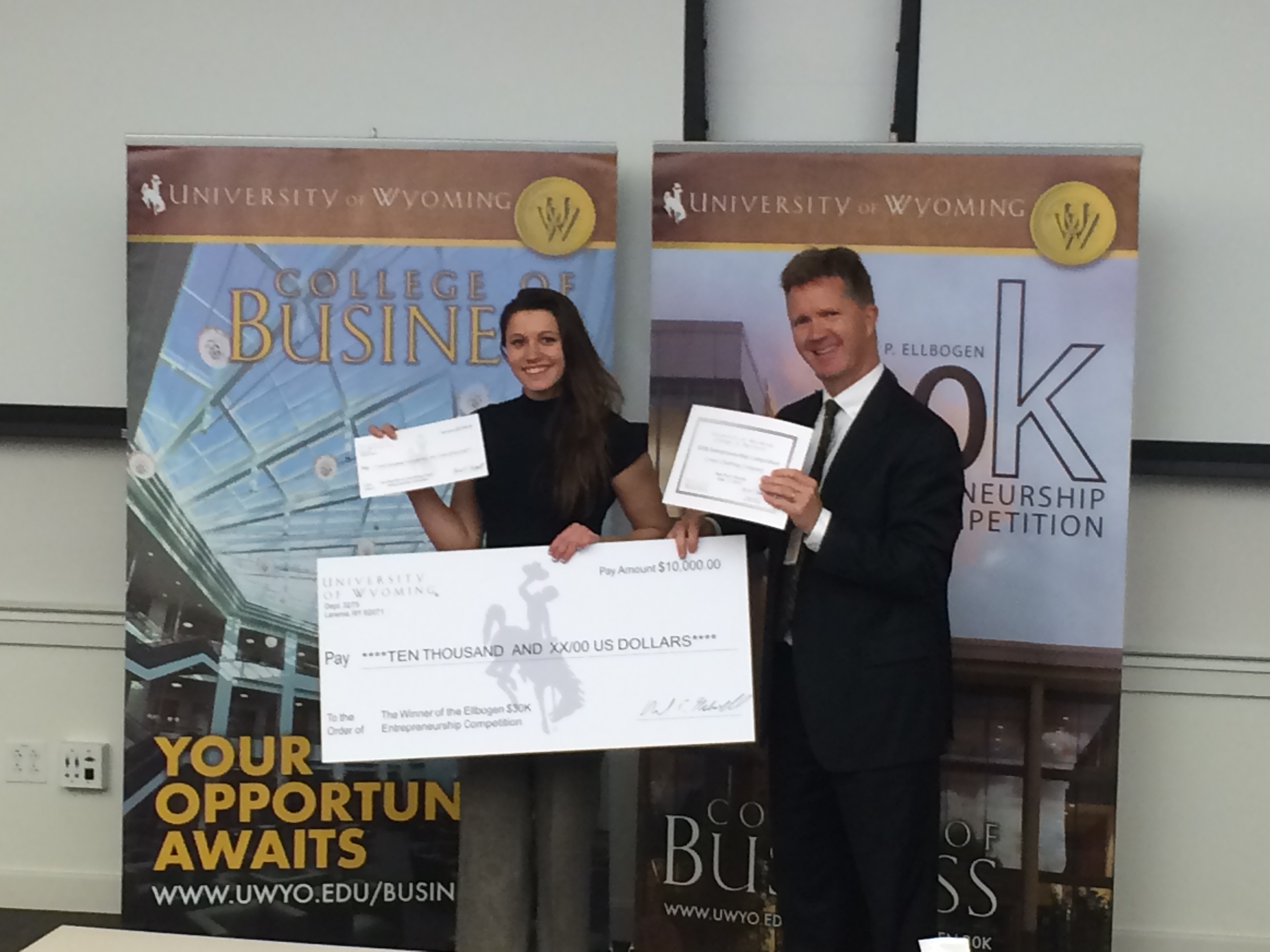 Tabitha Briscoe of Cruxx Climbing, presented with her prize by Even Brande

About the Competition
The John P. Ellbogen $30K Entrepreneurship Competition at the University of Wyoming (UW) is designed to encourage students in the UW community to act on their talents, ideas, and energy to produce tomorrow's leading businesses. The $30K Competition awards cash prizes to outstanding teams of student entrepreneurs who submit their business plans for new ventures showing significant business potential. The competition encourages teams to act on their dreams and build plans for their own companies and fortunes through a network of students, mentors, investors, and potential partners.
Students from all colleges at UW at the undergraduate and graduate levels are welcome to enter the competition. Multi-disciplinary teams that combine members from many disciplines are encouraged, as these teams bring together the variety of skills required for a successful venture.
The John P. Ellbogen $30K Entrepreneurship Competition was known as the UW 10K Competition until 2011.
The judges and audience of the 2012 30K Competition
Second place winner in 2010.
Congratulations to Glycobac, winner of the 2011 competition. They recently received a $150,000 NIH research grant.