WY Cooperative Agricultural Pest Survey
Current Surveys - 2015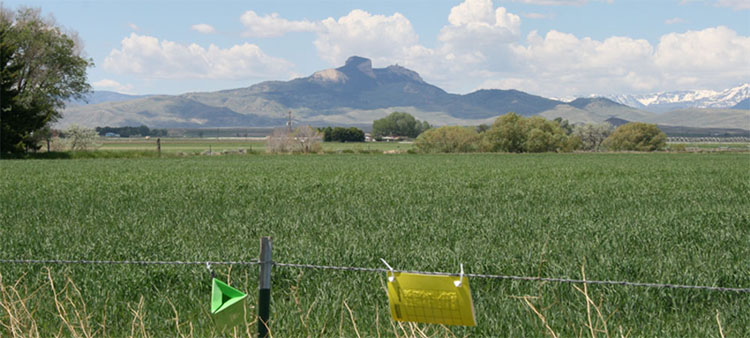 Bundled Small Grains Commodity Survey
Target Pests (National Importance):
Autographa gamma (Silver Y Moth)
Helicoverpa armigera (Old World Bollworm)
Spodoptera littoralis (Egyptian Cotton Leafworm)
Spodoptera litura (Tobacco Cutworm)
Thaumatotibia leucotreta (False Codling Moth)
Nysius huttoni (Wheat Bug)
Diabrotica speciosa (A Curcubit Beetle)
Puccinia graminis f. sp. tritici Ug99 (Black Stem Rust, Ug99)
Secondary Pests (Wyoming Importance):
Halyomorpha halys (Brown Marmorated Stink Bug)
Popillia japonica (Japanese Beetle)
Drosophila suzukii (Spotted Wing Drosophila)
Trionymus haancheni (Haanchen Barley Mealybug)
Puccinia striiformis (Yellow or Stripe Rust))
Suspect insects are identified at the University of Wyoming and results are submitted to the National Agricultural Pest Information System (NAPIS) database.
Insect (pheromone) traps will be hung near wheat and barley fields in Platte, Goshen, Laramie, Park, Big Horn, Washakie, Crook, Campbell and Lincoln counties, Wyoming between June and September 2015.  Traps are serviced every three weeks and inspected for the target pests (A. gamma, H. armigera, T. leucotreta, S. littoralis, and S. litura).
Between June and September, wheat, barley and corn fields will be visually inspected and also swept for the target and secondary pests (N. huttoni, D. speciosa, H. halys, P. japonica and T. haancheni).
Between June and September, spotted winged drosophila traps will be placed throughout Wyoming (locations pending).
Wheat and barley fields are inspected for signs of black stem rust (Ug99) and yellow or striped rust as part of a focused pathogen survey.  Fields are walked, and plants are sampled at random throughout the growing season.  Suspect plants are submitted to the University of Wyoming Plant Pathology Laboratory for analysis of plant pathogen signs and symptoms.  All data are entered into NAPIS.
Nematode Survey
Target Pests:
Ditylenchus destructor (Potato Rot Nematode)
Ditylenchus dipsaci (Stem and Bulb Nematode)
Globodera rostochiensis (Golden Nematode)
Globodera pallida (Pale or Potato Cyst Nematode)
Heterodera glycines (Soybean Cyst Nematode)
Heterodera latipons (Mediterranean Cyst Nematode)
Meloidogyne chitwoodi (Columbia Root-Knot Nematode)
Meloidogyne hapla (Northern Root-Knot Nematode)
Meloidogyne javinica (Javanese Root-Knot Nematode)
Meloidogyne arenaria (Peanut Root-Knot Nematode)
Meloidogyne artiellia (Artiellia or British Root-Knot Nematode)
Meloidogyne fallax (False Columbia Root-Knot Nematode)
Meloidogyne mayaguensis (Root-Knot Nematode)
Meloidogyne incognita (Southern Root-Knot Nematode)
Nacobbus aberrans (False Root-Knot Nematode)
Composite soil samples will be removed from dry bean, potato, and select agricultural fields in nine Wyoming Counties in the months of September and October, after fall harvest 2015. Soil samples are submitted to the University of Nebraska, Lincoln Nematology Laboratory for identification and confirmation of target pest species. Results are entered into the NAPIS database.