Environmental Engineering
College of Engineering and Physical Sciences
Master of Science in Environmental Engineering
Minimum Requirements:          GPA: 3.0          GRE: 291          Deadline: Feb. 1         
Additional requirements for international students:          TOEFL: 76          IELTS: 6.0

M.S. in Environmental Engineering:
            Historically, environmental engineering involved managing water quality (potable and wastewater sources), as well as municipal and hazardous solid waste. However, as society has progressed and the types and amounts of man-made substances entering the environment has increased, so too has the diversity of challenges faced by environmental engineers. For example, environmental engineers are now challenged with improving the environmental sustainability of efforts ranging from water management to energy production. Doing this requires that tomorrow's environmental engineers be educated on a myriad of topics including sustainability, chemistry, process design and operation, and material science. Environmental engineering students must be able to take advantage of a full suite of engineering skills and diverse knowledge base.
            At the University of Wyoming our students are exposed to all of these topics through a combination of traditional lectures, active learning, and hands-on demonstrations.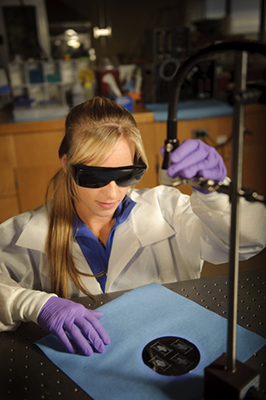 ---
Graduates of our M.S. in environmental engineering program are uniquely prepared to be leaders in their field and look forward to dynamic and challenging careers in a profession dedicated to the protection of human health and the environment.
---
Program Requirements
All Environmental Engineering M.S. students must take the following Core courses (9 hrs):
Environmental Engineering Microbiology (ENVE 5425)
Environmental Engineering Chemistry (ENVE 5430)
Environmental Transport Processes (CE 5435)
Students should also take at least one of the following Recommended courses (3 hrs):
Advanced Biological Wastewater Treatment (ENVE 5410)
Advanced Physical Chemical Treatment (ENVE 5450)
Plan A (Thesis) students complete another 14 hours of Approved Elective coursework, at least 4 hours of Thesis Research (ENVE 5960), and write and defend their thesis. Plan B (Project) students complete another 18 hours of Approved Elective coursework and write and present their project.
---
Quick Start Program
Are you currently working toward your Bachelor's of Science (B.S.) in Chemical, Civil or Architectural Engineering at the University of Wyoming? Are you interested in pursuing a Master's of Science (M.S.) degree as well and have a GPA above a 3.25? If so, the Quick Start Program may be for you. This program allows an accelerated path towards completion of an M.S. degree.
General information: More information about the Quick Start Program.
Application: To apply for the Quick Start Program, download the checklist and the application/plan of study form. Just follow the instructions and submit your materials. If you have any questions, please contact Molly DeLau in EN 4055 or Mindy Zwieg in EN 3074.
After acceptance: After you are accepted to the quick start program you will need to complete a Program of Study.
If you want to reserve course work for graduate credit you will need to complete Request to Reserve Course Work and see Molly DeLau in EN 4055 or Mindy Zwieg in EN 3074.
---
Environmental Engineering Research

---
Environmental Engineering Faculty

For More Information Contact