Civil & Architectural Engineering
EN 3074
Dept. 3295
1000 E. University Ave.
Laramie, WY 82071
Phone: (307)766-2390
Email:
cae.info@uwyo.edu
Water Resources Engineering
One of the most critical issues facing us today is the provision of enough water to meet the needs of society. Civil Engineers in the water resources area study a range of topics including water resource management, hydrology, hydraulic systems, irrigation, and groundwater flow. Water resources is a highly interdisciplinary field that uses both traditional methods as well as newer technology including remote sensing and Geographic Information Systems (GIS) to analyze data and perform complex system modeling.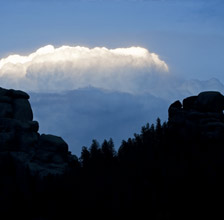 UW sits just beneath the Laramie Range, home to Vedauwoo recreational area.
Faculty with research in this area: