About the Conservatory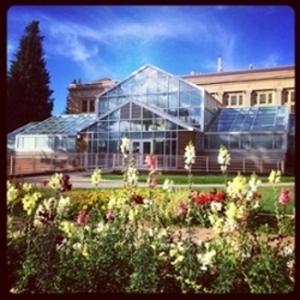 Our History and Purpose
The Williams Conservatory is a prominent facility at the University of Wyoming. Built in 1994, our greenhouse was funded largely by private donations from Louis O. and Terua P. Williams. The National Science Foundation (NSF) also contributed grant dollars specifically for the enhancement and maintenance of research.
The Conservatory is a multipurpose facility that is open daily for free public use. Our facility receives hundreds of visitors each year from the University community, traveling tourists, and Wyoming residents. 
The Williams Conservatory greenhouse and staff are organized to serve a three pronged mission of research, education, and outreach. Various graduate students and faculty conduct experiments in our segregated research rooms. University classes benefit from our growing spaces and sample from our living collection. Students of all ages regularly tour our facility to learn about plants from various climates and biomes. Conservatory staff not only work to maintain a living collection, but also host many guided tours, workshops, and fundraising events.
Follow us on social media to stay updated on future workshops and events!
---
Louis O. and Terua P. Williams
Louis and Terua Williams were supporters of the University of Wyoming's Botany Department for many years. Terua met Louis in Jackson Hole, Wyoming when she was a school teacher and he was an aspiring botanist. Under the guidance of Aven Nelson, Louis earned his B.S. and M.S. degrees from the University of Wyoming. After receiving his Ph.D. from Washington State University, Louis' career took him to Harvard University, the Panamerican School of Agriculture in Honduras, and the U.S. Department of Agriculture. In 1964, Louis took the role as department chair for the Field Museum of Natural History in Chicago until he retired in 1973. Louis was also the editor of the American Orchid Society Bulletin for many years. Because of the generous support provided by Louis and Terua, the University of Wyoming was pleased to name the conservatory in their honor.
---
The Staff
Sarah B. Lemli, Conservatory Manager
Phone: (307) 766-4336
Email: slemli@uwyo.edu
---