Wyoming Drug Utilization Review (WY-DUR)
Dept. 3375
1000 E. University Ave.
Laramie, WY 82070
Phone: 307-766-6750
Fax: 307-766-2953
Email:
lgm@uwyo.edu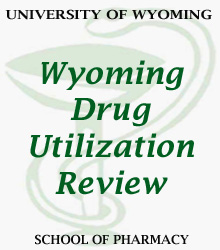 News
        Preferred Drug List (PDL)
The Wyoming Medicaid Preferred Drug List (PDL) including step utilization for anti-depressant medications and prior authorization information is available at the Wyoming EqualityCare Pharmacy Provider website. To view the current PDL, please visit www.wyequalitycare.org.
Public Comment at Meetings
 A new policy for public comment at meetings is effective December 1, 2012. 
PhRMA Guidelines and PhRMA Comment Request Form (updated December 3, 2012)
Public Guidelines and Public Comment Request Form (updated December 3, 2012)
Wyoming Formularies on Epocrates
Instructions for viewing the Wyoming Medicaid formulary on Epocrates.
Proposed Criteria
The following prior authorization criteria were approved at the May 16, 2013 P&T Committee meeting.
A 90 day trial and failure of metformin is required prior to use of Invokana.
Tecfidera will be a non-preferred multiple sclerosis agent, requiring a trial and failure of Avonex and Copaxone prior to approval. 
All anticonvulsants will be limited to labeled indication.  Clonazepam will be allowed for post-traumatic stress disorder and valproate for all forms of bipolar disorder.   
Adderall XR will be allowed for children down to the age of three.
Comments may be sent by email to alewis13@uwyo.edu or by mail to: Wyoming Drug Utilization Review Board, Dept. 3375, 1000 E. University Avenue, Laramie, WY   82071.   Comments should be received prior to June 30, 2013.
Board Meetings 
Agenda May 16, 2013 (Revised May 1, 2013)
Minutes May 16, 2013
All 2013 meetings are held at Laramie County Community College (LCCC), Center for Conferences and Institutes (CCI) 130, which is located in Building 14. (LCCC map and directions)
All meetings are held on Thursday from 9 am - 1 pm.
2013 Meetings
March 7, May 16, August 22, November 14 (change from November 21)
Share This Page: