Wyoming Drug Utilization Review (WY-DUR)
Dept. 3375
1000 E. University Ave.
Laramie, WY 82070
Phone: 307-766-6750
Fax: 307-766-2953
Email:
lgm@uwyo.edu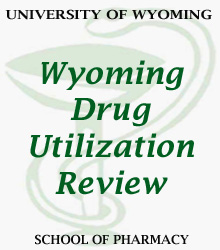 News
Preferred Drug List (PDL)
The Wyoming Medicaid Preferred Drug List (PDL) including step utilization for anti-depressant medications and prior authorization information is available at the Wyoming EqualityCare Pharmacy Provider website. To view the current PDL, please visit www.wymedicaid.org.  
Public Comment at Meetings
 A new policy for public comment at meetings is effective December 1, 2012. 
PhRMA Guidelines and PhRMA Comment Request Form (updated December 3, 2012)
Public Guidelines and Public Comment Request Form (updated December 3, 2012)
Proposed Criteria
The following prior authorization criteria were approved at the May 8, 2014 P & T Committee meeting.
All Hepatitis C agents will require prior authorization with the following information collected:
Pre-screening for risky behaviors
Treatment history
Extent of liver fibrosis (Metavir score)
Genotype
Those with Metavir scores of F0, F1, and F2 will be sent for further review as directed by the Department of Health.  Use of Sovaldi and Olysio in combination will require additional review by Department of Health. 
Naltrexone will be limited to those with a diagnosis of alcohol or opioid dependence.   
Psychotropics in children aged 5 and under will require prior authorization with the exception of ADHD medications which are allowed down to age 3.  Requests may be sent for review by Seattle Children's as deemed appropriate by the Department of Health.
 Prior authorization will be required for Adasuve and Zohydro ER. 
Hetlioz will be limited to its FDA approved indication. 
There was no evidence of a significant difference in safety and efficacy for Velphoro, Anoro Ellipto or Orenitram.  The Department of Health will review cost information and determine placement on the preferred drug list in their respective classes. 
Comments may be sent by email to alewis13@uwyo.edu or by mail to: Wyoming Drug Utilization Review Board, Dept. 3375, 1000 E. University Avenue, Laramie, WY   82071.   Comments should be received prior to June 30, 2014.
Board Meetings 
Agenda August 14, 2014 (revised 8/12/2014)
Minutes May 8, 2014
2014 Meetings
Wednesday, February 12; Thursday, May 8; Thursday, August 14; Thursday, November 13
All meetings are at 10 am at Laramie County Community College. Please see agenda for room location.