Wyoming Drug Utilization Review (WY-DUR)
Dept. 3375
1000 E. University Ave.
Laramie, WY 82070
Phone: 307-766-6750
Fax: 307-766-2953
Email:
lgm@uwyo.edu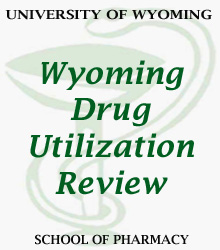 News
Preferred Drug List (PDL)
The Wyoming Medicaid Preferred Drug List (PDL) including step utilization for anti-depressant medications and prior authorization information is available at the Wyoming EqualityCare Pharmacy Provider website. To view the current PDL, please visit www.wymedicaid.org.  
Public Comment at Meetings
 A new policy for public comment at meetings is effective December 1, 2012. 
PhRMA Guidelines and PhRMA Comment Request Form (updated December 3, 2012)
Public Guidelines and Public Comment Request Form (updated December 3, 2012)
Wyoming Formularies on Epocrates
Instructions for viewing the Wyoming Medicaid formulary on Epocrates.
Proposed Criteria
The following prior authorization criteria were approved at the February 12, 2014 P&T Committee meeting.
The two-year limitation on Suboxone was reviewed at the request of a provider.  No changes were made to the policy.
Colcrys will be limited to 60 tablets per 30 days and a maximum duration of six months.  Prior authorization will be required to exceed these limits.
Fentanyl patches will be limited to opioid-tolerant patients, defined by the label as those who have been receiving at least 60 mg of morphine, 30 mg of oral oxycodone or 8 mg of oral hydromorphone, or equianalgesic dose of another opioid, for a minimum of one week.
Trokendi XR, Fetzima, and Sovaldi will be limited to use within label.  Fetzima will be non-preferred in the antidepressant category. 
No evidence of a difference between Opsumit and the other agents approved for treatment of pulmonary arterial hypertension is available.  Diagnosis confirmed by right heart catheterization will be required.  It will be reviewed for PDL status.
No evidence of a difference between Farxiga and Invokana was identified.  As with other diabetes agents, Farxiga will require a 90 day trial of metformin prior to approval and will be reviewed for PDL status.
Comments may be sent by email to alewis13@uwyo.edu or by mail to: Wyoming Drug Utilization Review Board, Dept. 3375, 1000 E. University Avenue, Laramie, WY   82071.   Comments should be received prior to March 31, 2014.
Board Meetings 
Agenda May 8, 2014 
Minutes February 12, 2014
2014 Meetings
Wednesday, February 12; Thursday, May 8; Thursday, August 14; Thursday, November 13
All meetings are at 10 am at Laramie County Community College. Please see agenda for room location.
Share This Page: