Reduced Agent and Area Treatments (RAATs)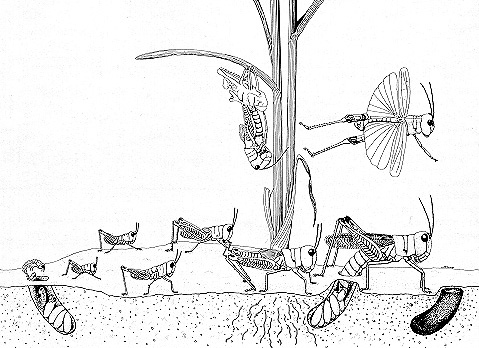 Do MORE with less using Reduced Agent and Area Treatments (RAATs)
The newest strategy for rangeland grasshopper management - an economical and environmental win-win approach to pest management
What are RAATs?
RAAT is a method of integrated pest management (IPM) for rangeland grasshoppers, in which the rate of insecticide is reduced from traditional levels, and untreated swaths (refuges) are alternated with treated swaths.
RAATs work through chemical control, meaning grasshoppers are killed in treated swaths and as they move out of untreated swaths, and conservation biological control, which allows predators and parasites preserved in untreated swaths to suppress grasshoppers. This IPM approach can reduce the cost of control and the amount of insecticide used by more than 50 percent.
Why use RAATs?
Economics
Inflation and the end of the USDA cost-share program has tripled the cost of rangeland grasshopper management for ranchers compared with the control cost during the last major outbreak in 1987. Most states no longer subsidize grasshopper programs; therefore, the cost of traditional tactics usually will exceed the benefits.
Environment
Less insecticide in the environment lowers the risk to native species (including fish and wildlife), water quality, and humans. The untreated swaths provide a refuge for organisms with lower mobility than grasshoppers, and even those organisms that move into the treated swaths will be largely unaffected unless they feed on the foliage.
 
For a more complete treatment of RAATs, see: Decreasing Economic and Environmental Costs of Grasshopper Control
For more information contact:
Scott Schell
Department of Ecosystem Science and Management
University of Wyoming College of Agriculture
P. O. Box 3354
Laramie, WY 82071-3354
(307) 766-2508; insectid@uwyo.edu
Funding for RAAT research has been provided by the state of Wyoming (Legislature, Department of Agriculture, Weed and Pest Districts, University of Wyoming), U.S. Department of Agriculture (Western Regional IPM Project, APHIS, and CSREES), and cooperating industries.