Ecosystem Science and Management
College of Agriculture and Natural Resources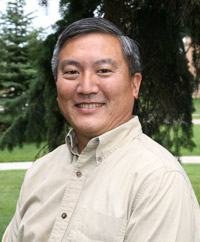 Professor Emeritus
jtanaka@uwyo.edu
Cell: (307) 460-8558
Curriculum Vitae
SRR Website
John Tanaka
Title
Professor Emeritus
Researcher, Sustainable Rangelands Roundtable
Areas of Expertise
Rangeland Management
Rangeland Economics
Public Land Policy
Research Interests
I am currently most interested in the questions related to sustainability of rangelands.  This includes the ecological functioning of the rangelands, the economic values and decisions that are made, and the communities and families that depend on them.  Most of my research focus is on activities of the Sustainable Rangelands Roundtable.
My research has focused on the economic impacts of various public land management options on western ranches; economics of ecosystem goods and services; economics of rangeland management practices; and related activities.
I am currently working on a national assessment of rangeland sustainability.  This project is using existing data to populate the Sustainable Rangelands Roundtable indicators of sustainability (http://www.sustainablerangelands.org/projects/criteria-and-indicators/).