Ecosystem Science and Management
College of Agriculture and Natural Resources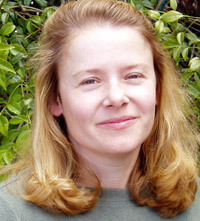 Associate Professor
AG C 2
khufford@uwyo.edu
(307) 766-5587
Website
Kristina M. Hufford
I study spatial and temporal patterns of selection in plant populations using techniques in field ecology, molecular genetics and bioinformatics. My research is focused on the adaptation of plant populations to local environments, and the implications of local adaptation for the restoration of native plant communities. I'm particularly interested in the spatial scale of local adaptation, and the fitness consequences of intraspecific hybridization among wild plant populations. My ultimate goal is to study the consequences of ecotypic variation for the long-term sustainability of restored plant populations. These data will contribute to both the conservation and restoration of native species.
Education
Ph.D., Botany, University of Georgia
B.A. , Environmental Sciences, University of California, Berkeley
Research Interests
Restoration ecology, population genetics, evolutionary biology and botany.
Teaching Activities
Rangeland Restoration Ecology (REWM 4580/5580)
Topics in Ecosystem Restoration (RNEW 4990/5990)
Various graduate courses
International Activities
Adjunct Lecturer, University of Western Australia, School of Plant Biology, Crawley, Australia