Ecosystem Science and Management
College of Agriculture and Natural Resources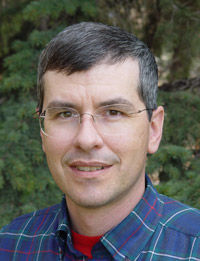 Associate Research Scientist
Ag C 9
sschell@uwyo.edu
(307) 766-2508
Scott Schell
Current Appointment:
Assistant Extension Entomologist; 2003 - current
Degrees Earned:
Jul. 1994 M.S. Entomology, University of Wyoming, Laramie
May 1991 B.S. Entomology with Honors, University of Wyoming, Laramie
Research:
Rangeland grasshopper ecology and management.
Black grass bug ecology and management.
Stable isotopes to determine mosquito source habitat.
Development of Reduced Area Agent Treatments strategies for the control of grasshopper outbreaks.
Extension:
Manage Arthropod diagnostic service.
Prepare annual Entomology short course.
Present Master Gardener program and entomology training
Selected Presentation:
Klamath Falls, OR April 25, 2007 USDA-APHIS sponsored grasshopper management workshop with Asst. Professor Alex Latchininsky.
Selected Publication:
Common Wyoming Pest Grasshoppers 3rd Edition
S.P. Schell, A. V. Latchininsky, and B.A. Shambaugh. B-1161 University of Wyoming, Cooperative Extension Service, and Department of Renewable Resources