Energy Display
Energy Mural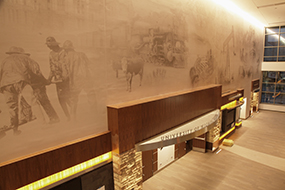 One of the most prominent features in the facility because of its size and scale, the Energy Mural tells the unique story of the state of Wyoming.  On one end is the state capital, and the University of Wyoming's Old Main is on the other.  Centered is the great seal of the State of Wyoming surrounded by the things that make Wyoming unique, including equal rights and the livestock and mining industries.  On the pillars are the words "Oil, Mines, Livestock, and Grain"—four of the major industries that helped shape and define Wyoming.  The mural's photos, which come from collections at the American Heritage Center, illustrate Wyoming's ties with agriculture, wildlife, and wilderness.
Gas Flare
Energy production is an important part of Wyoming—it has defined and shaped the state, the university, and the people.  The gas flare in the McMurry Foundation Grand Atrium celebrates the impact of the energy industry on Wyoming with a dynamic acrylic lighted representation of the derricks that rise all over the state.  It represents the flares of gas that come off wells.  It also showcases human energy, the nature of the wildcatter, and the exploration that has built our state and contributes back to the growth of our economy and university.

Energy Display

The touch-screen energy display in the McMurry Foundation Grand Atrium brings to life the energy industry and its impact on Wyoming and the University of Wyoming through interactive content.  It focuses on both historical and current information and features photo galleries, articles, and videos.