UW Foundation
Tree and Bench Program
Your gift of a tree or bench for the University of Wyoming campus enhances the beauty and versatility of the UW grounds, and is a living and lasting tribute to you as the donor and to the one you honor through your gift.
This is a particularly meaningful way to honor a graduating student or pay tribute to a favorite professor. It's also a way to leave a little piece of yourself with your alma mater, or to memorialize someone special in your life or the life of the university. It even makes a distinctive anniversary or birthday gift for those who hold UW dear.
Trees
Each tree is guaranteed and will be maintained for up to five years. Choose between deciduous trees with two-inch trunks or coniferous trees measuring six feet in height for $2,000 each. 
Benches
A Victorian-style park bench, six feet long and made of cast iron and a tough, wood-grained, recycled plastic, has a distinctive look and extra durability to withstand heavy use and the Wyoming weather. The benches cost $7,000 each and will be permanently installed and maintained by UW staff.
Bronze Plaques
Each of these commemorative gifts will be accompanied by a cast bronze plaque bearing your name as the donor and, where applicable, the name of the individual(s) to be honored or remembered.
Contact For More Information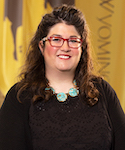 Kristin Morrison, Associate Director of Stewardship
jer2911@uwyo.edu 
(307) 766-3911