Contact Us
Department of Geology and Geophysics
1000 E. University Ave.
Laramie, WY 82071-2000
Phone: 307-766-3386
Fax: 307-766-6679
Email: geol-geophys@uwyo.edu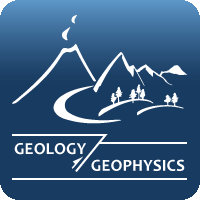 Eleven Geology Students Present Posters and Talks at UW 2014 Undergraduate Research Day
May 1, 2014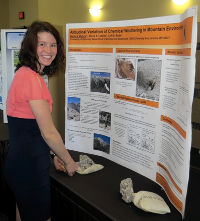 Undergraduate senior Marlie Malone prepares to present her poster on Undergraduate Research Day.
There was a super turnout of undergraduate students from the Department of Geology and Geophysics for the 14th Annual University of Wyoming Undergraduate research day on Saturday, April 26. Six students gave talks and five students presented posters. Wyoming's celebration of undergraduate research is open to all students who have completed an independent research or creative project in any discipline at Wyoming community colleges, UW/Casper College and the University of Wyoming. Over 250 students presented their research, which revealed the heights of undergraduate curiosity and creativity.
The Geology students who presented were:
Callie Berman (poster), "Fate and Transport of Water in a Mountain Environment," EPSCoR Fellowship (advisors Steve Holbrook, Scott Miller).
Anna Garcia-Ceballos (talk), "Using Microgravity measurements to map the Weathered-Zone Thickness in the Laramie Range," EPSCoR Fellowship, (advisor Steve Holbrook).
Joe Gonzalez (poster), "Characterization of Granitic Gneisses at Black Rock Mountain," EPSCoR Fellowship & McNair Scholar (advisors Carol Frost and Ron Frost).
Levi Gose (poster), "The formation of lower oceanic crust: constraints from crystallography and rock textures using electron backscatter diffraction and petrographic analysis," (advisor Mike Cheadle).
Keith Ingeldew (poster), "Putting current and future water availability in a historical context: Examining the last 11,000 years from a NE US lake," McNair Scholar (advisor Bryan Shuman),
Steven Levesque (talk), "Dissolution and Precipitation Reactions between the Madison Limestone and Supercritical CO2: Implications for Carbon Capture and Storage in Southwest Wyoming," (advisor John Kaszuba).
Leslie Logan (talk) "Organic Carbon Storage in Seminoe Reservoir, EPSCoR Fellowship," (advisor Brandon McElroy).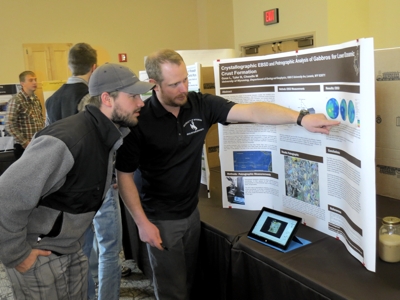 Mitch Lukens (talk), "The Conservation and Preparation of "Dinny" the Edmontosaurus," (advisor Kelli Trujillo).
Evan Martin (talk), "Evaluating the Distribution of sediments in the Seminole Reservoir Delta, Wyoming, NASA Space Grant Consortium fellowship," (advisor, Brandon McElroy).
Marlie Malone (poster), "Altitudinal variation of chemical weathering in mountain environments" (advisor Cliff Riebe).
John Zupanic (talk), "Understanding viscous compaction in igneous rocks: A window into the origin of economic ore bodies," EPSCoR Fellowship (advisor Mike Cheadle).
Research Day is sponsored by the UW Offices of Research and Economic Development, Student Affairs, and Academic Affairs; and also by the College of Arts and Sciences, the College of Agriculture, College of Engineering and Applied Science, the College of Health Sciences, Wyoming INBRE, UW Honors Program, the McNair Scholars Program, Wyoming EPSCoR, and the Wyoming NASA Space Grant Consortium.
Photo (bottom-left): Undergraduate senior Levi Gose describes some of the research in his poster titled to fellow undergraduate senior Austin Heller.
Contact Us
Department of Geology and Geophysics
1000 E. University Ave.
Laramie, WY 82071-2000
Phone: 307-766-3386
Fax: 307-766-6679
Email: geol-geophys@uwyo.edu