Electromagnetic Induction (EMI)-- Frequency Domain (FDEM) and Time Domain (TDEM)
EMI Overview:
Electromagnetic induction surveying (EM) is based on determination of conductivity (and - upon simple calculations – magnetic susceptibility) of a particular medium through the induction of an electromagnetic field within it. As a context, traditionally, the electrical method "measures" resistivity and the EM method "measures" conductivity. The main advantage of EM is that it does not require ground contact, as do the electrodes in a resistivity survey, so EM surveys can be very quick and easy.
The typical measuring system is equipped with two coils: transmitting and receiving. The system we use at this facility is a Geophex GEM-2, which is a lightweight, multi frequency (300Hz-96 kHz), fixed coil separation, sensor. The transmitter produces a primary electromagnetic field which generates a secondary electromagnetic field in the medium (Fig. 1). A coil of the receiver records the magnitude of the secondary field and a relation (ratio) between the primary and secondary fields. The secondary magnetic field is dependent on conductivity of a particular medium, and responds to any change in lithology, presence of underground waters or contamination. In time–domain EM (TDEM), time-varying currents are transmitted into a large transmitter loop which in turn generates electromagnetic waves in the subsurface. Secondary EM fields generated by eddy currents induced in the subsurface a measured in the receiver loop. Both TDEM and FDEM have some advantages over DC resistivity. Time-domain EM performs well in conductive materials, does not need to have direct electrical contact with the ground, has greater depth penetration and a smaller surface extent than ERT and is also fast. Frequency-domain EM can transmit at several frequencies and is usually portable such that one person can take the data at a normal walking pace.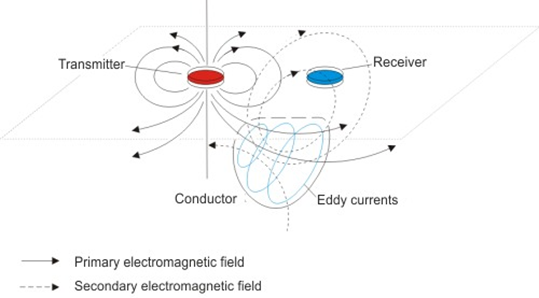 Depending on the distance and the geometry of the transmitter and receiver loops, EMI can be shallow or deep. Shallow EMI uses EM fields to provide information on shallow surface electrical conductivity as well as water saturation and temperature. On the other hand, deep EMI uses inductively coupled EMI measurements to provide resistivity and thus information on water/gas content, lithology and temperature as well. EM methods have found wide application in subsurface lithologic mapping, leachate plume mapping, subsurface porosity/permeability mapping and groundwater mapping.