Division of Kinesiology and Health
College of Health Sciences
Undergraduate Programs
The Division of Kinesiology and Health offers a Bachelor of Science (B.S.) degree in Kinesiology and Health Promotion and Physical Education Teacher Education (PHET). 
For more information about the Kinesiology and Health Program, refer to the University Catalog.
KINESIOLOGY AND HEALTH PROMOTION PROGRAM
Students in the Kinesiology and Health Promotion program (K&HP) can pursue the areas of health promotion, clinical exercise physiology, biomechanics, nutrition, basic science, behavior science, and business management. The K&HP program is an excellent preprofessional program for students seeking to enter the field of medicine, specifically to become a physician, physician assistant, occupational therapist, physical therapist, dentist, optometrist, ophthalmologist, chiropractor, or other related occupation in medicine.
K&HP Program of Study (USP 2015)
K&HP Program of Study (USP 2003)
PHYSICAL EDUCATION TEACHER EDUCATION PROGRAM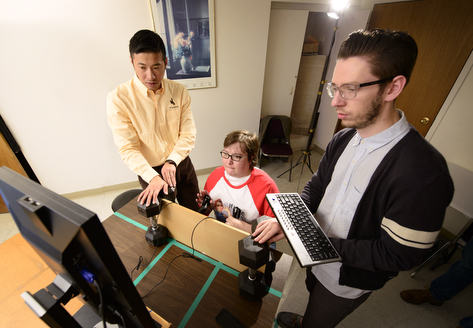 Students in the Physical Education Teacher Education program (PHET ) are certified to teach physical education K12 in the public schools of Wyoming. The PHET program is a nationally recognized program for the integration of theory and practice. The PHET program is a nationally recognized program for meeting the NASPE/NCATE Initial Physical Education Teacher Education Standards. The PHET program offers individuals opportunity to combine certifications/endorsements in health education K12, adapted physical education K12, and coaching.
PHET Program of Study (USP 2015)
PHET Program of Study (USP 2003)