Life Sciences Program
Mark Lyford, Program Director
Aven Nelson Bldg., Room 138
1000 E. University Ave.
Laramie, WY 82071
Phone: 307-766-4158
Fax: 307-766-2851

Introduction:
As a graduate teaching assistant you are an integral member of a team of teachers who are all dedicated to providing biology students with the best educational experience possible. The teaching team comprises the professor/lecturer/instructor, the graduate student, lab coordinators, and curriculum director. Our unified goal is to work together to accomplish our primary mission of providing in-depth, rigorous and dynamic courses in biology. All members of the team are expected to share their knowledge and expectations regularly.
---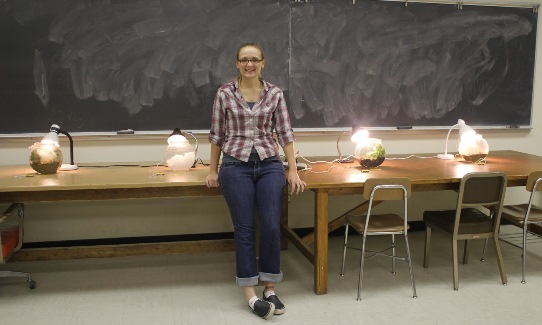 Rachel Jones, Program in Ecology, poses before an original 'Fish Bowl Biome' climate lab she developed for LIFE 1020.
During her time as a graduate student, Rachel assisted with LIFE 1010, 1020, and 2023, eventually co-instructing
and instructing her own courses and establishing a robust teaching portfolio as a result of her experiences.
---
Objectives and Learning Outcomes for Courses in the Life Program:
The labs for this and other Life courses are designed and organized to meet the goal of the Life Sciences Program curriculum, which is to expose students to four key areas:
Acquisition, application, and synthesis of knowledge.
Communication skills.
Critical thinking and problem solving.
Research skills.
---

Responsibilities:
You are expected to attend the lecture section for the labs to which you are assigned to teach.  Most students are expected to teach 2 lab sections per semester.
To be an effective instructor, we expect you to:
Become familiar with the lab material BEFORE the lab prep meeting by reading through the lab manual.
Attend the weekly lab prep meeting. During the meeting, we expect everyone to work together to understand the lab material, take notes, and make sure you understand all of the material. A positive attitude is very much appreciated.
Practice the provided lecture BEFORE you teach. Even though you listened to the lab coordinator or lecture instructor review the material, practicing before you teach will result in a more polished lecture.
Write lab questions and submit them to the coordinator before the deadline.
Grade lab reports and return them to students on time.
Present the lab material in a similar manner as it was presented to you during the lab prep meeting.
Consult the lab coordinator, your direct supervisor, about lab material if you have any questions.
 

---

Evaluation of GA Teaching and Performance in the Life Program:
Your teaching will be evaluated three times this semester. You will be evaluated by your peers (and you will evaluate your peers) around mid-semester. Students will also evaluate you through the University's online evaluation program, and your lab coordinator will also evaluate you toward the end of the semester.  Evaluation of teaching and performance will be based on preparedness and attendance at lab prep meetings, submitting your quiz questions on time, interactions with students, lab teaching performance, attendance at lecture exams and exam grading, and overall attitude. Your lab coordinator's evaluation will be given to you to review at the end of the semester. After you have reviewed it, a copy will be sent to your major advisor, your department head, and the Life Program Director. These evaluations may then be used in the future to help award teaching assistantships.
---
Suggested Teaching Strategies
Make sure that you are well prepared for each lab, as this will help you feel organized and in control.

Arrive early, set up the room, check supplies and equipment and review your notes.

Be calm, enthusiastic, and positive.
Let the students know what you will be expecting from them each lab.  An overview of the lab in the corner of the board will help with this and is a very standard procedure.
Begin to learn names on the very first day as the students introduce themselves.  The "Student Information" sheets will help you accomplish this within a couple of weeks.
Do not glue yourself to the TA chair, rather circulate while the students are doing the lab.
Ask the students to help you monitor yourself during class for talking too fast, moving too much, speaking to softly, etc.  You can also ask your UGTA for feedback, if you have one.
Be consistent and fair.
Write legibly and large enough for everyone to read.
Keep in mind that it is okay if you do not know something, but try to find out the answer as quickly as possible.  You can email the class later that day, or the following day with the answer.
Prepare your own detailed lesson plan based on suggestions from the lecture instructor and lab coordinator.  What works for one of us may not work for us all.  Make the lab your own.
Write questions ahead of time and try to anticipate the students' responses.
Evaluate the lab after the students have left… what worked and didn't't work?  What questions might the students still have?   You can address these points before the quiz the following week.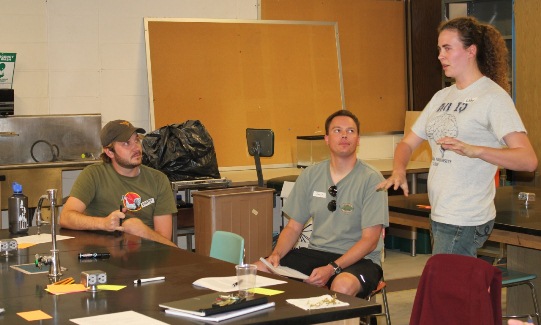 Graduate students discuss how to best approach teaching in the Life Science laboratories during an introductory
meeting in fall 2013.Teaching assistants in the Life Program attend both a University and Program training
at the start of the academic year. Weekly meetings are held to discuss teaching and learning throughout each semester.
Click here for more information regarding the Family Educational Rights and Privacy Act (FERPA).
Please visit our Life Science Teaching Community to share teaching materials, ask questions, and post experiences..