Wyoming Master Gardener Coordinator
Department 3354
1000 E University Ave
Laramie, WY 82071
Phone: 307-766-6870
Email:
chilgert@uwyo.edu
Season Extension
Greenhouse Structures (Publication #B-1147)
A greenhouse provides a means of changing the environment around plants to improve their growth. Some greenhouses are also an integral part of a house and yard design. Greenhouses chosen for their appearance are often more expensive than simple plant-growing structures. Greenhouse Structures discusses general considerations in selecting a greenhouse and offers information on covers, heating, ventilation, cooling, controls, and accessory equipment. Drawings are included along with a chart suggesting appropriate temperatures for growing common vegetables and flowers.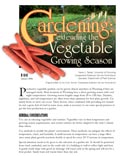 Gardening: Extending the Vegetable Growing Season (Publication #B-1148)
Productive vegetable gardens can be grown almost anywhere in Wyoming if they are managed wisely. The environment of plants needs to be modified to counteract the short growing seasons, cool temperatures, low humidity, and high winds characteristic of many parts of the state. Gardening: Extending the Vegetable Growing Season explains general considerations as well as provides information on how to start vegetables indoors, warm-season vegetables, cool-season vegetables, variety selection, mulching, and season-extending tips. Illustrations and photos are included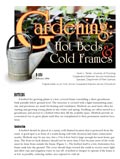 Gardening: Hotbeds & Cold Frames (Publication #B-1151)
Hot beds are used most often for starting and growing young plants in late winter and spring. Seedlings are often started in a greenhouse and moved to a hotbed when they fill the available space. Hot beds provide an economical way to grow plants until they are transplanted to their permanent outdoor locations. Cold frames work as solar heat traps to warm soil and plants during late fall and early spring. They can also improve the growth of cold-sensitive crops such as tomatoes when they are grown in areas with low summer temperatures. Gardening: Hotbeds and Cold Frames teaches readers how to construct, cover, heat, and manage hot beds and how to build, shelter, and manage cold frames.