Department of Molecular Biology
University of Wyoming
Dept. 3944
Laramie, WY 82071
Email: davidfay@uwyo.edu
Office: (307) 766-4961
Lab: (307) 766-4962
Fax: (307) 766-5098
Research
Overview
In the broadest sense, we are interested in understanding the molecular and genetic mechanisms that govern animal development. In addition, we would like to understand the consequences to human health that occur when the normal functions of developmental genes are perturbed. The laboratory is current focused on studies of two human disease genes and their related pathways. The great majority of this work is being carried out in C. elegans, an outstanding model organism for uncovering the basic functions of genes and proteins.
Another facet to our work is the study of genetic redundancy. Genetic redundancy refers to the ability of certain genes to functionally cover for other genes in their absence. This is not a trivial or arcane issue. The deletion of many genes in C. elegans, as well as mammals, fails to produce obvious visible defects. In fact, estimates are that ~75% of C. elegans genes can be inactivated without clear consequence, thereby begging the question, just what do these genes really do? Part of our work has therefore been focused on developing approaches to uncover the functions of such genes in order to better understand how the many genes of an organism work together. The cover illustration below from our 2002 Genes and Development paper depicts one such approach.
The Retinoblastoma (Rb) tumor suppressor protein in C. elegans
One of our primary objectives has been to understand the normal biological functions of the C. elegans Rb family ortholog, lin-35. In humans, loss of Rb is strongly correlated with cancer. In fact, the large majority of human cancers are known to contain mutations that result in the functional inactivation of the Rb protein, thereby leading to the view that loss of Rb function may be a universal and obligate step in the progression of human cancers. Despite the intense interest in Rb, relatively few studies have addressed the role of this protein during normal in vivo development.
To learn more about the normal functions of Rb family proteins, we have taken a variety of molecular, genetic, and bioinformatic approaches, and our broad goals are summarized in the figure below. In a nutshell, our studies have revealed roles for lin-35/Rb, not only in cell cycle control, but also in a number of distinct developmental processes. These include the control of cell shape and polarity, as well as the ability of certain cells to migrate or adhere to their substratum. Although we are still in the process of understanding at the molecular level how lin-35/Rb accomplishes these functions, it is most interesting to note that these processes are often derailed in human cancers, suggesting that Rb family proteins may possess several distinct tumor-suppressing activities. For more information about this work, click on the publications link for downloadable PDF files.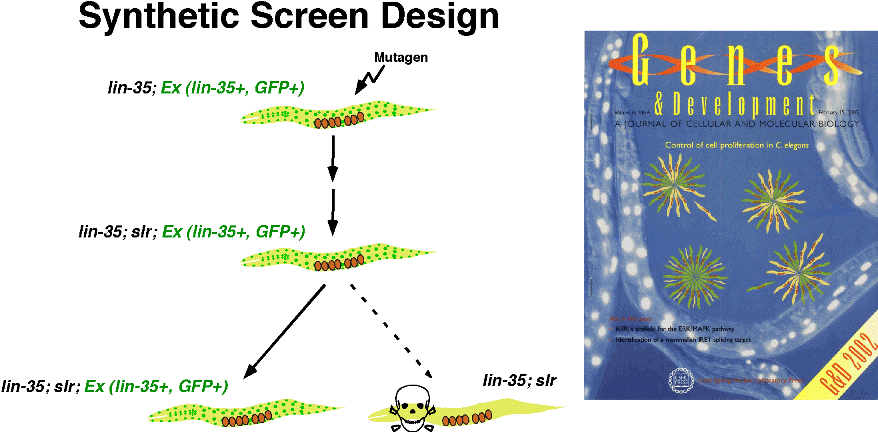 Glycopeptide Hormone pathways in C. elegans
Another project that we currently pursuing are studies on the C. elegans ortholog of the human FSH, LH, and TSH receptor family, fshr-1. The human receptors for FSH (follicle stimulating hormone) and LH (luteinizing hormone) are key regulators of sexual development and are necessary for the proper generation of sperm and oocyte. Importantly, invertebrate model systems have both the precedent and potential to shed tremendous new light on these well-studied human pathways. We have therefore taken a genomics-type approach towards understanding the functions of the fshr-1 gene and will continue to use C. elegans to better understand glycopeptide hormone signaling pathways and the developmental processes that they regulate. Thus far, our studies have demonstrated roles for fshr-1 in promoting oocyte development, germline stem-cell proliferation, and germ cell survival. Furthermore, FSHR-1 appears to function in somatic support cells to control these germline processes, similar to the FSH and LH receptors from humans. The image below shows the consequence of knocking out the fshr-1 gene, along with reducing the functions of two RNA binding proteins, FBF-1 and FBF-2. Such animals fail to produce oocytes and instead make a vast excess of sperm, indicating that fshr-1 promotes oocyte development.