The criminal justice concentration within the Master of Public Administration program (CJ-MPA) is designed for individuals who aspire to take-on the challenges of criminal justice administration and policy reform in the 21st Century. Courses are offered through a distance education format, which allows students the flexibility to complete their degree in their community while working full-time and still receiving a high-quality education.
Our students come from a variety of backgrounds, ranging from traditional graduate students attending full-time on the UW campus to professionals in communities throughout the state and region, working in fields such as law enforcement, court administration, and probation and parole. While most graduates go on to leadership and management positions in the government and non-profit sectors, the CJ-MPA is also a good degree option for individuals interested in entering academia by providing the educational credentials to teach at the community college level or as an intermediary degree for those aiming to pursue a PhD or other doctoral degree.
Student Profiles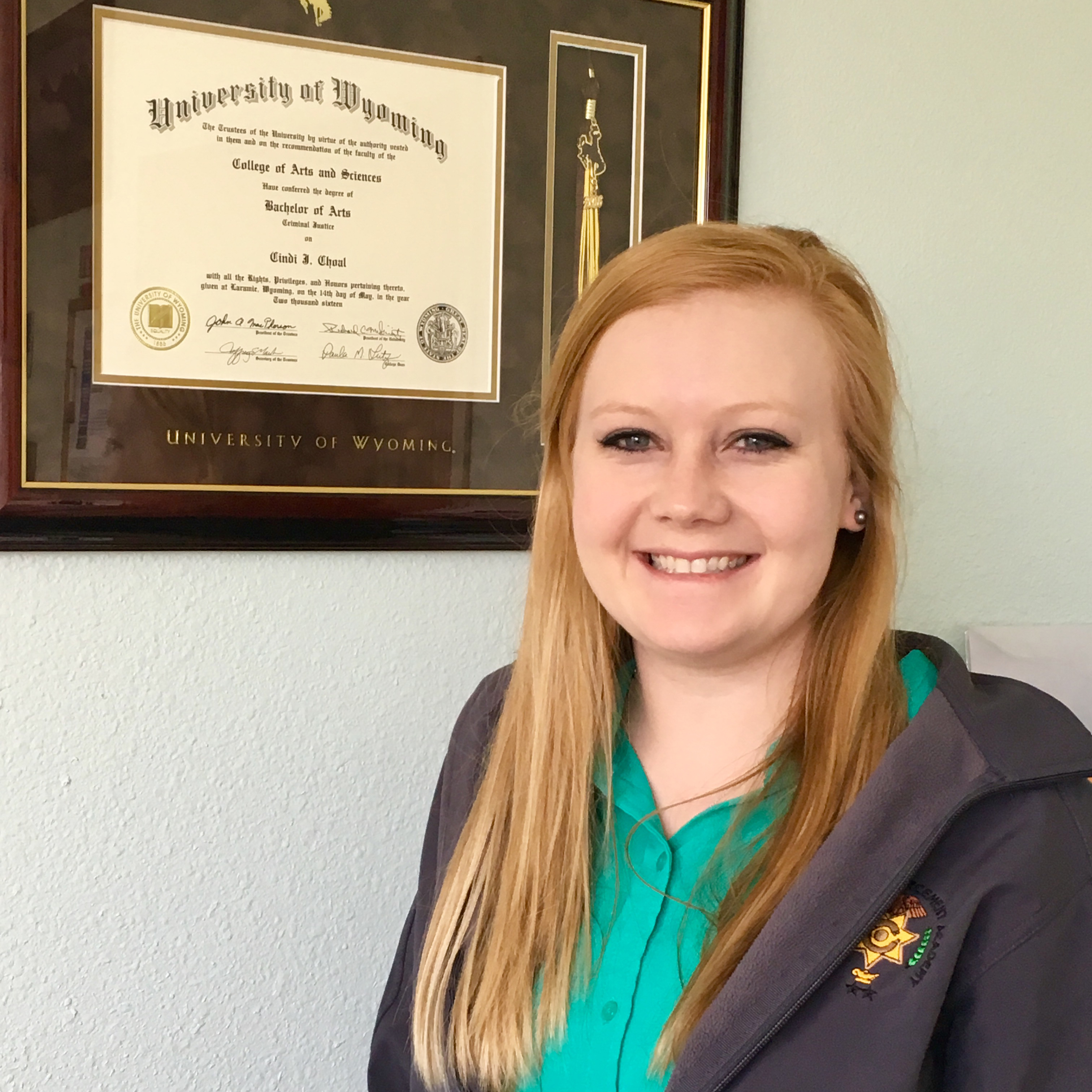 Cindi Choal
"As a graduate of UW's criminal justice program, I knew pursuing a criminal justice concentration with my MPA would be a chance to focus my graduate education in my field of interest. As a full time Probation/Parole Agent, my life is constantly on the move. The class delivery style has allowed for me to have a career, while earning my graduate degree at the same time.
The MPA program provides a platform to develop leadership, management, and professional skills for a career in public service. By adding a criminal justice concentration, I can better understand the administration of criminal justice agencies. Most importantly, because students and professors involved in the program come from such diverse backgrounds, there is a unique perspective to every issue and topic." 
Sam Brodie
"I grew up in the small town of Lander, Wyo., and I always knew that after high school I would be attending the University of Wyoming. As I was finishing my BA in Criminal Justice with a minor in Accounting, I started thinking about career options and decided I wanted to pursue a career in federal law enforcement.
I also decided that continuing my education on a full-time basis by pursuing a Master's of Public Administration degree with a Criminal Justice concentration would benefit me both in the hiring process and for long-term career advancement opportunities. The MPA/CJ program offers excellent classes on everything from personnel management to criminal justice policy.
Additionally, the professors and fellow students are excellent people, and I have made a lot of good contacts during my time in the program that I know will help me achieve my long-term goals. Overall, I have thoroughly enjoyed my time in the program and highly recommend it to anyone!" 
Program Details
Students who enroll in the Criminal Justice Concentration are required to complete 39 credit hours.  These courses include 7 required core courses in the MPA program, 2 option core MPA class, and 4 Criminal Justice Courses, including:
CRMJ 5000 Survey of Criminal Justice

CRMJ 5100 Public Policy and Crime

CRMJ 5500 Internship in Criminal Justice*

One Graduate-Level Criminal Justice Elective

Electives include:

CRMJ 5130 Leadership and Management in the Criminal Justice System

CRMJ 5860 Inequality, Crime, Criminal Justice, and the Law

CRMJ 5150 Crime Causation

CRMJ 5280 Comparative Criminal Justice
* Students with at least 2 years of experience working in the criminal justice system can request to substitute an additional Criminal Justice elective course for the internship requirement.