Chemical & Petroleum Engineering (Dept. 3295)
1000 E. University Ave
Megan S. Candelaria - Coordinator
Office: 221 Physical Science
Laramie, WY 82071
Phone: 307-290-0058
Email:
MegDiane@uwyo.edu
Annie Fletcher
Annie teaches physics at the Rock Springs High School Energy Academy, her fellows for 2012-13 are Corin Chepko and Logan Gradisher.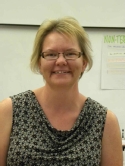 Jeanette Wallace
Jeanette teaches earth science, physical science and chemistry at Wheatland High School, she is currently work with fellow Cassandra Watts for the 2012-2013 school year.


Roger Spears
Roger teaches physics at Torrington High Scool and this 2012-13 school year fellows Robert Streeter and Scott Maloney are working with him.


JoAnne Schubert
JoAnne works at Glen Rock High School teaching biology and chemisrty, fellows Siguna Mueller and Allison Driscoll are working with her this 2012-13 year.


Erin Arnold
Erin works at Green River High School teaching chemistry. The fellows working with her are Bryce Dutcher and Phil Miller for the 2012-13 year.


Samantha Schwessinger
Samantha teaches Physical, Life, and Environmental science as well as Biology and Geology at Glendo School. Her partner Fellow is Corin Chepko. This is Samantha's second semester on the project.
Glendo School, PO box 68, Glendo, Wyoming 82213
sschwe@platte1.k12.qy.ua
Monte Else
Monte teaches Geometry, Trigonometry and Calculus in Lander, Wyoming. This is Monte's second semester on the project. Monte's Fellows are Bryce Dutcher and Robert Streeter.
Lander Valley High School, 400 Baldwin Creek Road, lander, Wyoming 82520
melse@landerschools.org
Lonna Schmick
Lonna teaches Chemistry, Life and Physical science at South East School. Her Fellows are Siguna Mueller and Brandon Scott. This is Lonna's second semester on the project.
South East School, Lacy Street, Yoder, Wyoming 82244
lschmick@goshen.k12.wy.us
Damian Paulson
Damian teaches Physics, Chemistry and Physical science in Niobrara County High School. Damian's Fellows are Philip Miller and Mark Bentley. This is Damian's first year on the project.
Niobrara County High School, PO Box. 1050, Lusk, Wyoming 82225
paulsond@lusk.k12.wy.us
Mark Steward
Mark teaches Environmental Science to 11 and 12th year high school students. He teaches at Douglas High School. Mark's Fellows are David Herr and F. Scott Maloney. This is Mark's first year on the project.
Douglas High School, 615 Hamilton St., Douglas, Wyoming 82633
msteward@ccsd1.k12.wy.us
Carrie Johnson
Carrie teaches AP Environmental Science and Biology in Lander Valley High School. This Carries 2nd semester on the project.
Lander Valley High School, 400 Baldwin Creek Road, lander, Wyoming 82520
cjohnson@landerschools.org