Doctoral Neuroscience Program
Graduate Neuroscience Learning Outcome
---
Graduate Neuroscience Program: Learning Outcomes and Assessment
Learning outcomes for graduate students pursuing a PhD degree in Neuroscience:
GOAL 1: Knowledge
By graduation, students should have an advanced level of understanding of neuroscience, neuroanatomy, neurophysiology, as well as their major area of research. This knowledge is required to pass the qualifying exam for admission to PhD candidacy.
GOAL 2: Communication
Students should be able to communicate effectively their results and that of others.
Goal 3: Scientific Proficiency
Students should demonstrate the knowledge, research expertise, and methodology to become proficient Neuroscience researchers.
---
Doctoral Neuroscience Program CURRICULUM MAP
The following Core courses are required of all doctoral students. NEUR 5280: Introduction to Neuroscience is required the first semester of graduate studies. Neur 5100: Structure and Function of the Human Nervous System is taken the spring of the first year and Neur 5685: Neurophysiology taken the fall of the second year. Seminar (NEUR 5715) is required every semester and we expect a progression as the student advances from the first to final year of graduate training.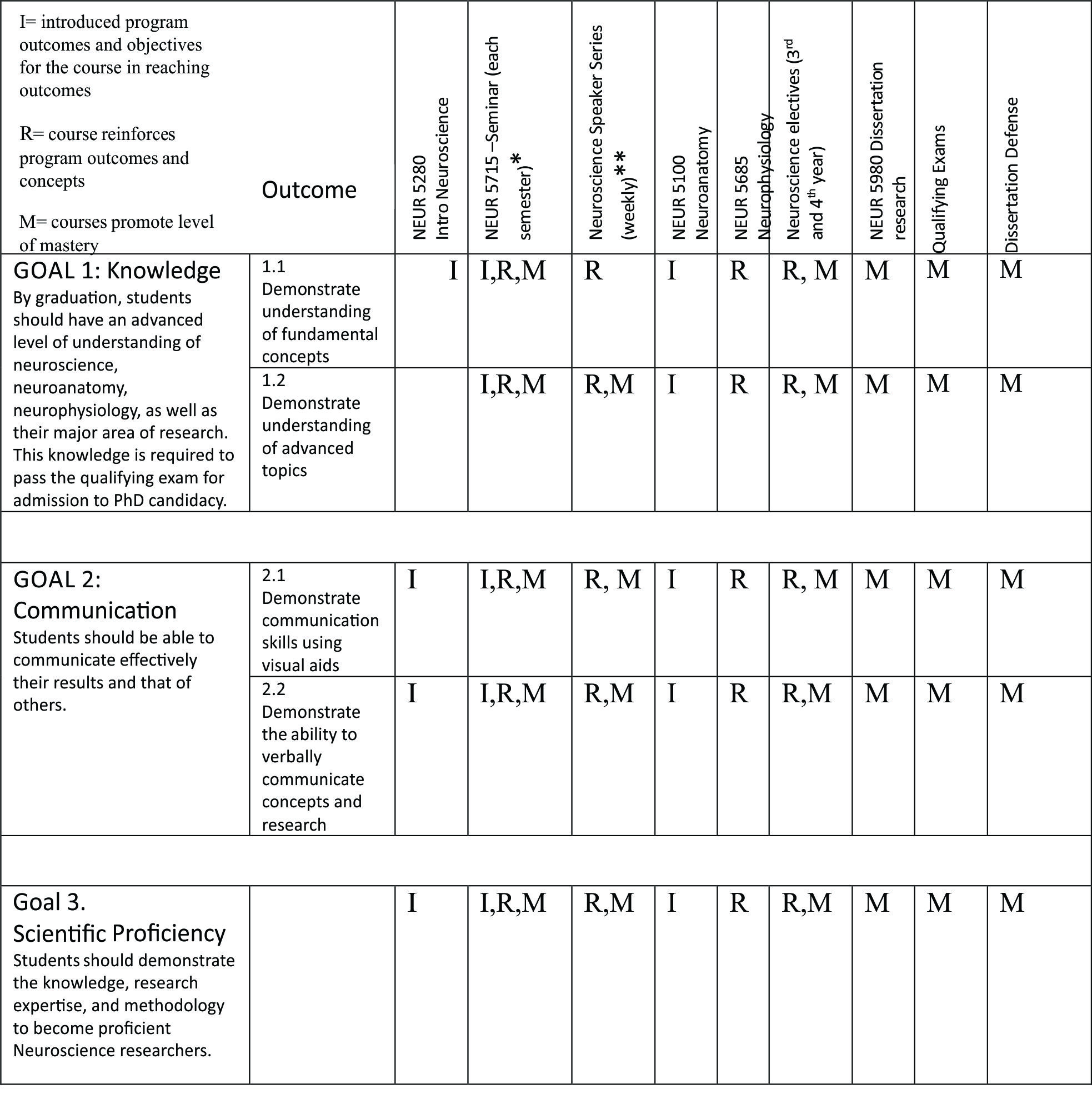 Outcomes are evaluated yearly using the following form. Evaluation of the Neuroscience Program in meeting the above goals is assessed during the Graduate Neuroscience Seminar (NEUR 5715), which is required of all students. In addition, during the final dissertation presentation the Outcome Assessment and Learning Outcomes will be evaluated by neuroscience faculty, including committee members. The information will be tabulated and used to assess the Neuroscience Program's meeting Learning Outcomes.