Wyoming Life Resource Center
2011 BRAND Program Community Partner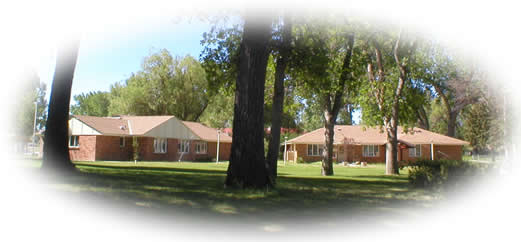 Wyoming Life Resource Center (WLRC): Lander, Wyoming

Unique, exciting clinical site
Student comments offer the best description as to why Wyoming Life Resource Center was named as BRAND Community Partner for 2011: "I am so impressed with the professionalism and caring attitude of the staff and their amazing competence displayed toward the patients. [This experience] renewed my belief in the positive wonders and good of nursing."  And more:
"All the nurses are noticeably invested in our learning experiences. Unique and beneficial experiences abound: we've observed water and horse therapy, met with the chaplain, financial officer, physical therapists, and attended staff meetings. And have experienced what it is like to use an electrical wheel chair!" / "I was able to see and/or provide care with tracheostomy, G and J tubes, and suprapubic catheters, which I had seen very little of in the past. This provided a huge boost in my nursing self-confidence."  Thank you, WLRC!
Pictured to the left:
Lila Zwemer, Nurse Manager at WLRC, speaks to interested students at the nursing career fair held this fall on the University of Wyoming campus.
Pictured below:
(l-r) At the fall Nightingale Honor Ceremony, Zwemer and WLRC Superintendent Virginia Wright accept the 2011 BRAND Community Partner Award from BRAND Coordinator Carrie Deselms and Dean Mary Burman.