Wyoming State Hospital, Evanston
2012 Community Partner of the Year

The University of Wyoming Fay W. Whitney School of Nursing (FWWSON) has announced that Wyoming State Hospital in Evanston is the 2012 Graduate Program's "Community Partner of the Year". The award plaque was presented to the hospital's director, Dr. Jack Roniger, at the school's Community Partner meeting this fall.
"From the earliest beginnings of UW's Psychiatric Mental Health Nurse Practitioner (PMHNP) program," notes Doctor of Nursing Practice Program Coordinator Ann Marie Hart, "the Wyoming State Hospital in Evanston has been one of its strongest supporters. The State Hospital has served as a regular and eager clinical training site for the PMHNP students and has demonstrated an active interest in the curricula. Dr. Roniger has served on the School's NP advisory board for years, driving back and forth to Laramie multiple times a year to do so. In addition, Roniger and colleagues at the State Hospital routinely go above and beyond for our students doing clinical rotations at the State Hospital - holding after-hours case study and psychopharmacology reviews and welcoming students into their homes in the evenings for dinner and a movie (related to mental health!). As well, Dr Roniger has worked to secure free or reduced cost lodging and meals for students. Furthermore, the Wyoming State Hospital has shown a vested interest in the UW PMHNP graduates, hiring several of them and serving as mentors to these individuals. The support the Wyoming State Hospital has demonstrated for our PMHNP program is both impressive and unparalleled."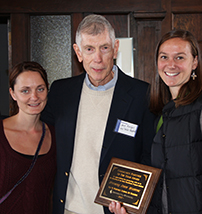 Former PMHNP students and now current professional Psychiatric Mental Health Nurse Practitioners Jill Lloyd (l) and Nancy McGee (r) were present to witness Dr. Jack Roniger's (center) receipt of the graduate program's Community Partner 2012 Award for the Wyoming State Hospital.