Wyoming Medical Center:
2013 Community Partner of the Year
Wyoming Medical Center (WMC) is a crucial part of the clinical experience for the BRAND* accelerated program nursing students and has been from the program's inception. WMC is a teaching hospital and offers opportunities for a rich array of learning experiences. In addition to involved medical and surgical clinical experiences, students learn fundamentals pertaining to the field of obstetrics (OB), including labor and delivery, post-partum, and newborn nursery. Cheryl Wrasper, a long-term former OB employee of WMC, is an excellent clinical instructor who augments the learning process by bringing vital knowledge and sharing of real-life case scenarios to students. In addition, Linda Clamp has served with excellence as an adjunct clinical faculty in the medical surgical clinical course.
BRAND students also have contact with and gain vital experiences and knowledge from WMC ancillary departments/personnel. The students have opportunities to observe and interact with other medical disciplines/departments, such as cardio-respiratory; radiation therapy; occupational, physical, and speech therapies; dialysis center; and pharmacy among others, depending on their patient assignment. They observe and participate in interprofessional collaboration between nursing and these ancillary departments, a concept which is integral to their future work in the health care delivery system. Students also gain valuable experience with the use of electronic documentation and technology, such as medication administration using electronic bar-scanning.
Each year, BRAND nursing students are hired by WMC after graduation. This brings the partnership between WMC and the BRAND program full-circle: BRAND graduate nurses (along with other Wyoming Medical Center nurses) help to carry on the legacy of mentoring future BRAND students!
*BRAND: "Bachelors Reach for Accelerated Nursing Degree"
------------
Below (l-r): Candace Tull, BRAND Coordinator, and Mary Burman, Dean of the UW FWW School of Nursing, present the 2013 BRAND Community Partner Award for Wyoming Medical Center to representatives Linda Clamp, adjunct clinical faculty, and Connie Coleman, Nurse Manager at Wyoming Medical Center. The award was presented at the fall 2013 annual Nightingale Ceremony on the University of Wyoming campus.
2013 BRAND Community Partner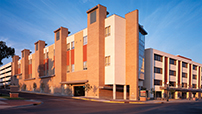 Wyoming Medical Center is the BRAND Community Partner of the Year for 2013.