DNP Program 2013 Community Partner of the Year:
Cheyenne VA Medical Center
For over three decades, the Cheyenne Veterans Administration Medical Center (VAMC) has partnered with the University of Wyoming Fay W. Whitney School of Nursing's nurse practitioner (NP) program to provide high quality clinical experiences for the nurse practitioner students. The NPs and physicians from the Cheyenne VAMC have precepted countless numbers of UW NP students, many of whom have gone on to have wonderful careers at the VA. "The experiences the NP students receive at the Cheyenne VAMC are second to none," says Ann Marie Hart, coordinator of the school's DNP Program. "Students are required to go through an intensive training session so that they can fully utilize the VA's impressive integrated medical records system. In addition, students typically are provided with their own patient examination room and schedule, the latter of which increases in number and complexity as students' skills progress. In addition to their main preceptors, students who rotate through the Cheyenne VAMC also receive experiences with providers in multiple departments, so that they truly have a well-rounded experience." Furthermore, students routinely report that their preceptors from the Cheyenne VAMC treat them kindly and respectfully, while at the same time challenging them to learn and grow.
Although the Cheyenne VAMC has proven to be a trusted "training ground" for the UW NP students, the most valuable aspects of the Cheyenne VAMC are their nurse practitioners. "Time and again, the NPs at the Cheyenne VAMC have demonstrated their commitment to UW's NP program not only by precepting our students, but also by securing stipend funding for students. As well, several of the VAMC NPs routinely provide guest lectures and workshops for our NP students," says Hart.
The DNP program at the Fay W. Whitney School of Nursing is honored to have such a strong partnership with the Cheyenne VAMC and is proud of the top-notch care the Cheyenne VAMC provides to the nation's veterans.
----------
Below: VAMC Nurse Practitioner Ann Enlow provides a suturing workshop for UW NP students..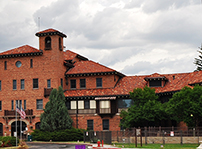 Cheyenne VA Medical Center is the DNP Program Community Partner of the Year for 2013.