Platte Valley Medical Clinic, P.C.
2015 DNP Program Community Partner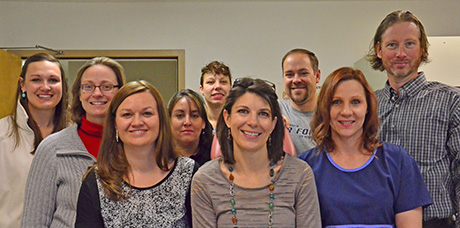 Pictured is the staff at PVMC (l-r):
Back row: Shandi Foos, Jennifer Oiler, Lana Elder, Jen Wagy, Dean Bartholomew, Ed Sheils.
Front row: Conna Marie McGuire, Tonya Bartholomew, Lisa Bifano. [Picture taken by Saratoga Sun.]
The DNP Program 2015 Community Partner is Platte Valley Medical Clinic, P.C. (PVMC), a rural health clinic in Saratoga. PVMC shares a decades-long relationship with the FWWSON in providing outstanding clinical experiences to family nurse practitioner students in both the former Master's and the current DNP programs.
The providers at PVMC routinely serve as preceptors to the UW DNP students and offer an authentic rural primary care experience. Casper area DNP student Shawn Snyder says, "Experiences included rural clinic visits, house calls, after-hour emergency calls, practicing with limited resources, lack of specialty services, and practicing as a patient-centered medical home. The whole experience was an excellent learning opportunity and allowed me to gain a greater understanding for rural primary care and an idea of how I would like to model my own future practice."
PVMC was recently recognized as a level 3 Patient-Centered Medical Home in a process endorsed by the National Center for Quality Assurance. DNP students have benefited from exposure to this process and from experience with the innovative telehealth strategies offered by the clinic.
Official presentation of the 2015 award will take place the fall of 2015 at the DNP Program's "Willow Ceremony."
----------