Platte County Detention Center
2017 BRAND Program Community Partner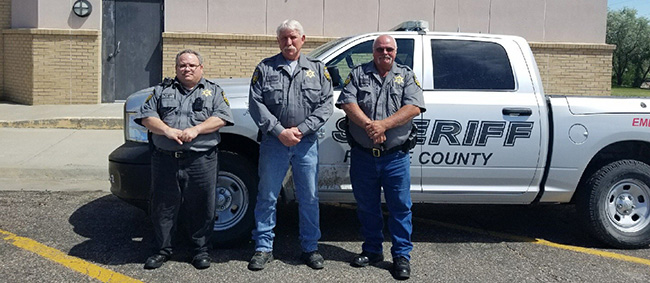 Pictured: (l-r) Deputy Harvey Cain, Sheriff Clyde Harris, and Undersheriff Grady Winders
The University of Wyoming Fay W. Whitney School of Nursing named Platte County Detention Center in Wheatland the Community Partner of the Year 2017 for their work with the "BRAND" program ["Bachelors Reach for Accelerated Nursing Degree]. The award was presented at the school's fall "Nightingale Ceremony" on August 30, 2017 in the Arts & Sciences Auditorium on the UW campus by BRAND Program Director Holly Miller and the school's Dean, Mary Burman.
The Nightingale Ceremony welcomes BRAND Program and Basic BSN Program junior students into the profession of nursing. By presenting the Community Partner awards at the ceremony, new students get a glimpse of the significant role community agencies play in their upcoming clinical education.
About Platte County Detention Center

"Platte County Detention Center is a rotation for BRAND's mental health nursing practicum," says former Program Director Candace Tull, "and has been a most unusual but extremely valuable clinical partner. Sadly, many patients with mental health issues receive little or no treatment, ending up within the penal system." So BRAND students observe a variety of mental health conditions, learn helpful techniques for de-escalation and interacting with the acutely mentally ill, and observe health care as provided through the penal system.
"The staff of the facility have worked hard to ensure a good learning experience," says Tull. BRAND faculty member Rachel Thomas elaborates:
"Deputy Harvey Cain works one-on-one with students, introducing skills/techniques and dialogue to best address behavioral issues. He shows how to guide conversations, interpret and understand body language, and speak with those whose behavior begins to escalate, keeping situations calm and maintaining effective communication.
"Sheriff Clyde Harris organizes the experience to allow students to work with inmates to better understand behavioral issues, and work with deputies to best manage/prevent behavioral outbursts/escalations when caring for patients under significant stressors."
Thomas describes Undersheriff Grady Winders' contributions: "Grady allows students to ride with deputies, observing interactions when responding to behavioral situations. He also developed a video series of behavioral incidents that took place in the detention center and placed the students 'in the scenario', asking how they might best handle the situation. Students were quite challenged by this in a very positive way."
The BRAND program is for students with a previous non-nursing baccalaureate degree who now desire to become a registered nurse. BRAND is not only an accelerated program, but also a distance program. The program delivery allows Wyoming's rural and isolated hospitals and agencies to "grow their own" BSN-prepared nurses without relocating the student (or the families of the student) to Laramie. BRAND's 15-month 'summer to summer' program includes online learning, hybrid courses and hands-on clinical experiences. The intensive curriculum focuses on didactic and clinical nursing education. BRAND requires a motivated, independent and self-disciplined learner.
----------
Posted 9/25/2017