Spring Wind Assisted Living
2017 Basic BSN Program Community Partner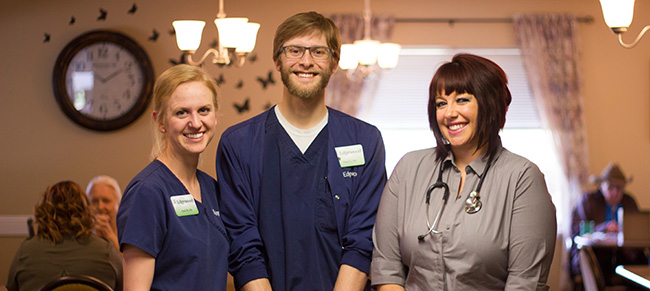 Pictured: Representing the nursing care at the Spring Wind Assisted Living Center in Laramie are:
(l-r) Katie Mann, RN; Peter Skorcz, RN; and Jessica Stalder, RN, Clinical Services Director.
----------
The University of Wyoming Fay W. Whitney School of Nursing named Spring Wind Assisted Living in Laramie the Community Partner of the Year 2017 for their work with the "Basic BSN" program. The award was presented at the school's fall "Nightingale Ceremony" on August 30, 2017 in the Arts & Sciences Auditorium on the UW campus by Basic BSN Program Director Holly Miller and school Dean Mary Burman.
The Nightingale Ceremony welcomes Basic BSN Program junior students and accelerated BRAND Program students into the profession of nursing. By presenting the Community Partner awards at the ceremony, new students get a glimpse of the significant role community agencies play in their upcoming clinical education.
About Spring Wind Assisted Living
"We have been using the Memory Care Unit for several years as a clinical placement in our program," says Basic BSN Program Director Holly Miller. "Peter Skorcz and the nursing staff have helped our students to understand the needs of the elderly with dementia and Alzheimer's Disease and the loving care needed for these patients. Spring Wind's dedicated staff are positive role models for our students." Miller continues, "Our students come away from this experience with more understanding and interest in this patient population. Spring Wind involves our students in all aspects of care and makes them feel like part of their team. The staff continually go above and beyond in helping educate our students within their facility. We appreciate all of their efforts and their support of the Fay W. Whitney School of Nursing."
About the Basic BSN Program
The Basic BSN program is a bit of a misnomer. One of the faculty who teaches in the program tells students, "There's nothing 'basic' about the Basic BSN Program!" The program is a four-year on-campus Bachelor of Science in Nursing (BSN) program option for students who desire to become a registered nurse. The rigorous coursework and thorough clinicals constitute a strong program "to rival any," states program alumna Emily Hill, RN, BSN, a nurse currently working at the renowned Mayo Clinic. "UW grads are absolutely qualified and capable to work anywhere!" Community agencies such as Spring Wind Assisted Living contribute to the nursing school's great reputation, providing excellent learning opportunities for students.
----------
Posted 9/25/2017