Western Wyoming Community College
2017 BSN Completion Community Partner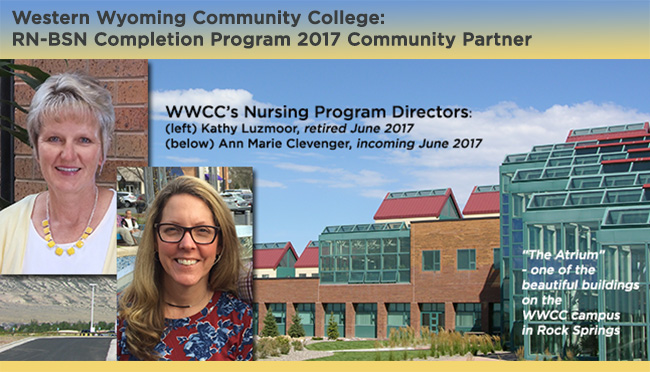 The University of Wyoming Fay W. Whitney School of Nursing named Western Wyoming Community College in Rock Springs the Community Partner of the Year 2017 for their work with the "RN-BSN Completion" program. The award was presented at the Wyoming Nurses' Convention in Laramie, Wyoming on September 21 in the Hilton Convention Center to current WWCC Nursing Program Director Ann Marie Clevenger by UW RN-BSN faculty Linda Williams.
------------------
About Western Wyoming Community College Nursing Program

"There is no question that our program is better for our relationship with the nursing program at Western." - David Bodily, RN-BSN Program Director

"Our partnership with the nursing program at Western Wyoming Community College (WWCC) in Rock Springs," says RN-BSN Program Director David Bodily, "has been a great help to many RNs who are graduates of both WWCC's and UW's nursing programs. The faculty and staff at Western are devoted to the ongoing success of their students and graduates. They have consistently gone above and beyond to help their students and graduates navigate their way into the RN-BSN completion program at UW."
The WWCC nursing staff set an example for students as they set about to encourage higher education. "I'm a UW nursing alum 1985 BSN, 2009 MSN," says Kathy Luzmoor, recently retired from the program director position. "Ann [Clevenger, incoming program director] also received her BSN from UW. Six of our full-time faculty are UW alumni." So not only have faculty been focused on advising students of the need to pursue a bachelor's degree, they have patterned that path for their students.
Bodily continues his praise for WWCC: "WWCC's faculty and staff are patient professionals who share our values and dedication to not only patients, students, and nurses, but to the better health of Wyoming. There is no question that our program is better for our relationship with the nursing program at Western. It is a pleasure to name them as our Community Partner of the Year."
------------------
About the RN-BSN Completion Program
The BSN Completion has two options:
ReNEW Option
for Wyoming Community College ReNEW students/graduates

Streamlined Transition from ADN benchmark to ReNEW BSN Completion

Concurrent Coursework Available

RN-BSN Option

for Licensed Registered Nurses with Diploma or ADN education
Other Strengths:
Delivery at a Distance: no on-campus requirements

Engaging, Contemporary, Concept-Based Curriculum

flexible, Convenient, "Small-Bite" Coursework

Individualized Advising

Adjustable, Modular Program of Study
----------------------------
Posted 9/25/2017