Central Wyoming College
2018 BSN Completion Community Partner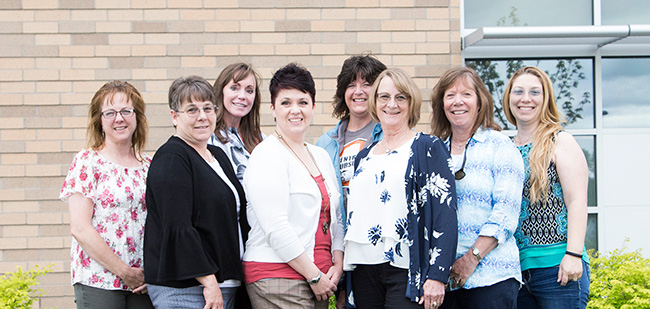 The University of Wyoming Fay W. Whitney School of Nursing named Central Wyoming College (CWC) the Community Partner of the Year 2018 for their work with the "BSN Completion" program. The award will be presented at the Wyoming Nurses' Convention this fall 2018. Pictured above are the nursing faculty from CWC.
(l-r): Amy Hernandez, Terry Wilson, Stacey Stanek, Marie Bohrer, Anne Nez, Jennifer McCartney, Cathy Beck, and Elizabeth Oliver.
------------------
About Central Wyoming College

"The BSN Completion Program is a 'notch above' thanks to our partnership with CWC. We are grateful for the opportunity to recognize their contribution not only to our program, but ultimately to the health of Wyoming." - David Bodily, RN-BSN Program Director

The nursing faculty and administration at CWC have been full partners in the statewide ReNEW collaborative and consistently demonstrated an "all-in" attitude about developing and implementing the ReNEW curriculum. They have participated in the hard work "behind the curtain" and the harder work of preparing students for their ADN Benchmark, RN Licensure, and completion of the ReNEW BSN. This level of participation has been an inspiration for ReNEW Completion efforts at our Fay W. Whitney School of Nursing at the University of Wyoming. UW's delivery of ReNEW coursework and the experience of learners will be better due to sharing of ideas and expertise with the personnel at CWC.
We are also better because of the RN-BSN nursing students at CWC. They have been contributing learners before and during CWC's transition to ReNEW. Students in the first CWC cohort have been willing pioneers, actively shaping our advising efforts. They have helped us focus and prioritize. We look forward to their continued engagement as we begin delivering ReNEW Completion coursework.
The BSN Completion Program is a "notch above" thanks to our partnership with the CWC. We are grateful for the opportunity to recognize their contribution not only to our program, but ultimately to the health of Wyoming. We treasure CWC as our 2018 Partner!
------------------
About the BSN Completion Program
The BSN Completion has two options:
ReNEW Option
for Wyoming Community College ReNEW students/graduates

Streamlined Transition from ADN benchmark to ReNEW BSN Completion

Concurrent Coursework Available

RN-BSN Option

for Licensed Registered Nurses with Diploma or ADN education
Other Strengths:
Delivery at a Distance: no on-campus requirements

Engaging, Contemporary, Concept-Based Curriculum

flexible, Convenient, "Small-Bite" Coursework

Individualized Advising

Adjustable, Modular Program of Study
----------------------------
Posted 9/14/2018