Wyoming Recovery -- Casper
2019 BRAND Community Partner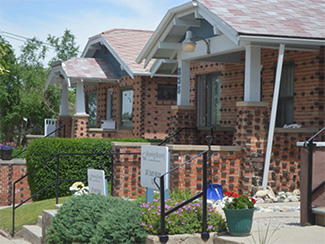 Pictured: Wyoming Recovery facility (above right, as pictured on their web site) "encompasses four converted residential homes that provide a cozy, homey atmosphere on an open campus," states their site, "and is one block east of Wyoming Medical Center, which is an acute care comprehensive hospital. Residents are housed in a supervised, safe, and nurturing environment."
----------
Wyoming Recovery in Casper partnered with the BRAND program to introduce students to behavioral health in
a positive light and to decrease the common stigmas associated with behavioral health. Students were exposed
to the many aspects of substance abuse, including group and individual therapy, harm-reduction techniques,
medication-assisted therapies, and a comprehensive health care plan for each client. Students actively participated in group therapy sessions and witnessed the motivation and striving for clients to improve their overall health and wellness. Dr. Frank Del Real, Wyoming Recovery Medical Director, has graciously dedicated his time and shared his expertise with each BRAND student throughout the rotation. He took special care to explain the disease of addiction, treatment options, and how nurses can make a positive difference in the lives of any person struggling with a substance problem. Nurses are a strong voice in helping break the stigma of addiction, and can also educate their community that addiction can affect anyone and help is available.
----------
Posted 9/14/2019
URL removed for facility on 12/10/2020 due to broken link