Banner Health Wheatland
2019 DNP Program Community Partner of the Year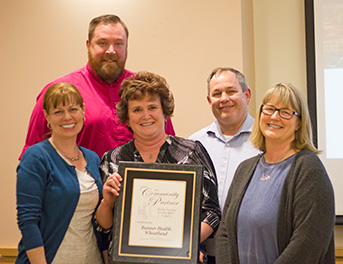 Pictured: (l-r): Kim Schindler, FNP-C; Derrick Lockman, Practice Manager; Amy Johnson, DNP, FNP-C; Dr. Jeff Bacon, CMO; and Tanda Hicks, DNP, FNP.
----------
Congratulations to the 2019 DNP Program Community Partner of the Year, Banner Health Wheatland!
Dr. Ann Marie Hart, DNP Program Director at the UW Fay W. Whitney School of Nursing explains why the DNP faculty chose Banner Health Wheatland for this award:
Clinical Education for NP Students
For over 15 years this exceptional rural primary care clinic and their second-to-none team of nurse practitioners have provided an incalculable amount of clinical education to our nurse practitioner students. The experiences our NP students receive at the Banner Health Wheatland Clinic represent the epitome of relation-centered, community-focused, team-based primary care, and students always receive individualized support as they explore the full gamut of providing care to a rural community--including acute, chronic, wellness, and mental health care.
Hires NP Grads
Additionally, the administration of the Banner Health Wheatland Clinic appreciates the unique contributions of nurse practitioners, as they've hired and retained a number of our NP graduates through the years.
Quality Improvement Projects
Furthermore, Banner Health Wheatland Clinic recently partnered with the DNP program on student-led quality improvement projects. The Banner Health Wheatland Clinic goes above and beyond to partner with our program, and our faculty value this partnership more than words can express.

Thank you Banner Health Wheatland!!
About the UW Doctor of Nursing Practice Program

The Doctor of Nursing Practice (DNP) degree is the standard for advanced practice nursing education. The UW FWWSON has two clinical options: family nurse practitioner (FNP) and psychiatric mental health nurse practitioner (PMHNP).
----------
Posted 5/9/2019