Northern Wyoming Community College District
2019 BSN Completion Community Partner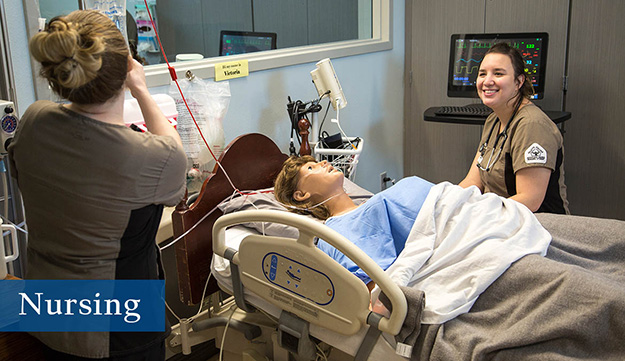 Picture taken by NWCCD shows nursing students in a nursing simulation lab. The picture is posted on their web site at https://www.sheridan.edu/academics/programs-a-z/nursing/
------------------
About Northern Wyoming Community College District

"The BSN Completion Program is a 'notch above' thanks to our partnership with CWC. We are grateful for the opportunity to recognize their contribution not only to our program, but ultimately to the health of Wyoming." - David Bodily, RN-BSN Program Director

The BSN Completion Program (BSNC) has chosen the Northern Wyoming Community College District (NWCCD—Gillette College and Sheridan College) Nursing Program as the latest recipient of our Community Partners Award. The BSNC Program benefits from close relationship with NWCCD Nursing and from graduates who choose Fay W Whitney School of Nursing to complete their BSN degrees.
In the Fall of 2018, the NWCCD Nursing Program fully implemented ReNEW nursing curriculum. This milestone set Wyoming off as the only state where all accredited RN programs share a curriculum.
The nursing faculty and administrators at NWCCD have brought a fresh eye and enthusiasm to ReNEW at an opportune time. Professional collaboration and curricular refinement are enhanced, and the influx of NWCCD Associate Degree students into ReNEW BSN coursework energizes the work. The ReNEW collaborative as a whole—and the BSNC Program specifically—are stronger with the full partnership of the NWCCD nursing program in ReNEW.
We salute the NWCCD Nursing Program for embracing not only the hard work of implementing a new curriculum, but of delivering a smooth transition for students already looking toward the FWWSON for BSN Completion education.
------------------
About the BSN Completion Program
The BSN Completion has two options:
ReNEW Option
for Wyoming Community College ReNEW students/graduates

Streamlined Transition from ADN benchmark to ReNEW BSN Completion

Concurrent Coursework Available

RN-BSN Option

for Licensed Registered Nurses with Diploma or ADN education
Other Strengths:
Delivery at a Distance: no on-campus requirements

Engaging, Contemporary, Concept-Based Curriculum

flexible, Convenient, "Small-Bite" Coursework

Individualized Advising

Adjustable, Modular Program of Study
----------------------------
Posted 9/14/2019