Johnson County Healthcare Center
2020 Basic BSN Community Partner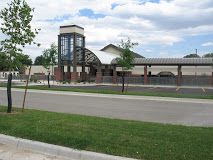 Pictured: Johnson County Healthcare Center, Buffalo, Wyoming 
----------
The recipient of the Community Partner Award for 2020 from Basic BSN nursing program at the University of Wyoming is Johnson County Healthcare Center in Buffalo.
"Mary Litzel, Chief Nursing Officer at Johnson County Healthcare Center (JCHC), is always willing to offer student placements," says Pre-Licensure Programs Director Kimberly Raska-Miller. "Even though a small facility, JCHC is usually the first to say 'yes!' to student placements, regularly taking two of our capstone students for the semester. Staff are always welcoming, and nurses have an incredible knowledge base to share with our students. The nurses are experts in everything, and students are impressed and amazed by the myriad of patients they see on the Medical/Surgical floor or in the ER on any given day. The nurses handle each patient adeptly and patiently, explaining thought processes to student nurses—which helps to increase their clinical judgement and critical thinking skills."

Raska-Miller continues her praise for JCHC and its nurses: "Not only do the nurses help educate our students, but they also take the student nurses under their wing by offering housing and engaging students with the community. The Johnson County Healthcare Center placement is much more than a clinical experience for our students: The experience shows our students the importance and need for access to quality healthcare in rural communities, and also shows the power and significance of a commitment to the community. The Fay W Whitney School of Nursing is very fortunate to have such a strong community partner to help in educating and graduating quality nurses."
The 2020 award was presented to Johnson County Healthcare Center through the school's annual "Nightingale Ceremony", where new nursing students are introduced to the profession of nursing. The ceremony was presented virtually for the first time in its history and can be found at https://youtu.be/96SlUmLHhms [approx 19 minutes into the program].
----------
Posted 08-28-2020