Teton County Public Health
2020 BRAND Community Partner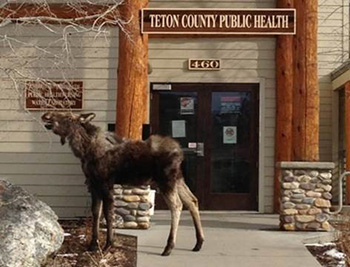 Pictured: Teton County Public Health facility and their resident moose. 
----------
The recipient of the Community Partner Award for 2020 from BRAND accelerated nursing program at the University of Wyoming is Teton County Public Health in Jackson. This healthcare facility partnered with the BRAND program last spring to introduce students to community health nursing. Students were exposed to the many aspects of community nursing, including immunization and STD clinics, home visits for vulnerable patients, educational programs in the K-12 schools and community events, and disaster management. Students actively participated in providing immunizations, assessing patients and taking histories during clinic visits, attended home safety assessments, and witnessed the motivation and striving for clients to improve their overall health and wellness with full support of the public health staff.

"The staff at Teton County Public Health graciously shared their time and expertise with each BRAND student throughout the rotation," states Kimberly Raska-Miller, Prelicensure Programs Director at the Fay W. Whitney School of Nursing, University of Wyoming. "They took special care to explain the role of public health to the community in times of uncertainty, especially valuable to students as they attended rotations in the early phases of the COVID crisis." Raska-Miller continues, "The Teton County Public Health nurses are a strong voice in helping seek needed resources for the community, and our students greatly appreciated the opportunity to share and learn from a team that represents the heartbeat of a community."

The 2020 award was presented to Teton County Public Health through the school's annual "Nightingale Ceremony", where new nursing students are introduced to the profession of nursing. The ceremony was presented virtually for the first time in its history and can be found at https://youtu.be/96SlUmLHhms [approx 20:56 into the program].
----------
Posted 08-28-2020