Wyoming Primary Care Association
2020 BSNC Community Partner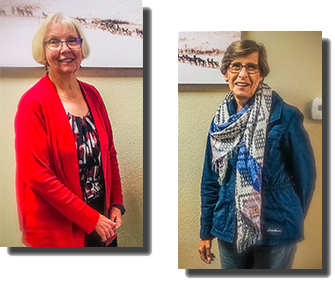 Pictured above (l-r): Brenda Burnett, WYPCA Clinical Quality Consultant, and Jan Cartwright, Executive Director, WYPCA, would be receiving the BSNC Community Partner Award in person in any other year but 2020!"
----------
The recipient of the Community Partner Award for 2020 from the BSN Completion (online BSN Program option) at the University of Wyoming is Wyoming Primary Care Association. 
David Bodily, BSN Completion program director, wrote the following nomination: "The Wyoming Primary Care Association (WYPCA) has been instrumental in development of meaningful practice experiences for Wyoming's ReNEW ADN students and graduates. We are grateful for their dedication to health in Wyoming, through contributions to the nation's only 100% shared baccalaureate nursing curriculum.
"WYPCA has helped design a context where students can apply their learning and understanding to real-world situations. These 'Practice Experiences' have benefits not only for students, but for the agencies that participate."
Congratulations, Wyoming Primary Care Association!
----------
Posted 08-28-2020